Recordings
Advanced filtering
Look up people who visited a specific URL, came from a certain city or on a device of your choice. Choose from over 30 filters to quickly find recordings that you need.
Always-on recording
Always-on means, we record every user. That's essential when you're looking for specific behavior. Like when someone reaches out with a support ticket or you need to find a recording of a bug.
Visitor journey
With visitor journey, you know when users come back and see what they did during those sessions.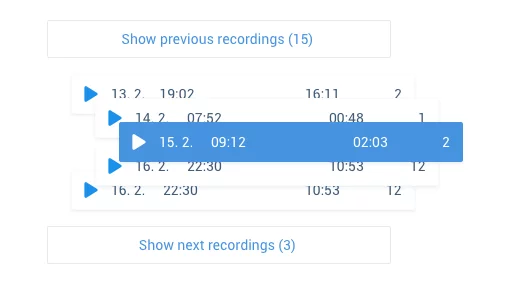 Identify customers
Use Smartlook API to identify users and look up customer's replays by their name or email. Use that for faster support and debugging.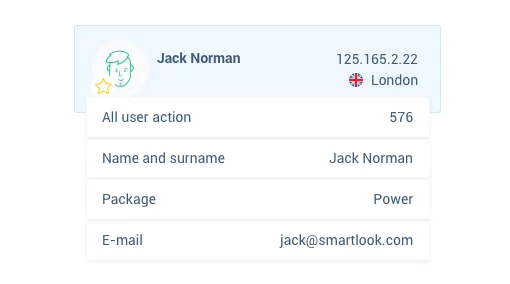 Heatmaps
Heatmaps from historical data
Don't wait weeks to collect data for a heatmap you forgot to create, generate it in a matter of minutes from the data you already have.
Different types of visitors in heatmaps
Choose between all, new and returning visitors and see how their behavior differs. Do the returning ones click on certain elements more?
Download and share heatmaps
Use heatmaps in presentations and send public links to your teammates or clients. Heatmaps are easily understood by everyone.
Segment heatmaps by device
See how any page works on computers, mobiles, and tablets. Segment heatmaps by a device to find where to improve your website.
Events
Events can be used to filter recordings
It can be a click on any element of your site, text typed into an input field or anything you send to Smartlook through API. Maybe to look up people with a specific error in a sign up form.
Event statistics & event breakdown
See how often people use any element of your website. And break it down by custom parameters such as a type of subscription a user has.
Event picker makes your life easier
Set up events without developers. Choose any element with a few clicks on a page. Maybe to see videos of people clicking on add to cart button?
Skip the unimportant parts
Events automatically play a recording from the moment a user interacts with a specific part of your site. Saves a lot of time you'd need to find that moment.
Automatic event tracking
Everything is tracked from the moment you add Smartlook to your website. When you create an event, you can already see its statistics and watch related videos.
Funnels
Watch why people drop out of a funnel
You can use funnels to find people who didn't finish a step. Watch people repeatedly encounter the same problem, fix it and increase conversions.
See statistics retroactively
With a funnel in tools like Google Analytics, you have to wait for new data. When you create a funnel in Smartlook, you can already see how it's performing.
Create funnels from events
Funnels are typically created from URLs. But in Smartlook you can create a funnel from any events. This helps you to see if certain functions improve conversion.
Analytics & Reporting
Customizable dashboard
See the most important information all in one place. Choose what events, funnels and statistics you want to see and play related recordings right from your dashboard.
Email reporting for events and funnels
See how the performance of a funnel (or an event) changes on a weekly basis. If a mission-critical funnel suddenly stops working, you'll know it.
Rage clicks
Filter videos of users who furiously click on any element. With Rage Clicks it's easy to spot bad UX design & find places for possible improvement to your website or mobile app.
JavaScript errors
Watch replays with JavaScript errors popping up in the console. You can see what a user did before the error happened so you can get rid of it in no time.
Anomalies alerting
Get notified about sudden drops and increases in JavaScript errors. This helps you to spot technical problems before they damage your business.
Retention Tables
Find user engagement
Easily understood tables show customer retention, so you can focus on improving your user engagement and find better ways to get new customers.
Identify churn
Retention tables let you identify users who need help as well as the identity where problems emerge so that you can simplify processes for your current users.
One-click tables
Thanks to Smartlook's automatic event-tracking and historical data usage, you can load a retention table for any event with one click. No setup. No confusion. Just important data made easily accessible.
Block recording of any IP addresses
Filter out your offices so that your team doesn't distort the data.
Single-page apps support
Most of the Smartlook Features work even with single-page apps.
GDPR compliant by design
Smartlook's default setting takes care of GDPR so that you don't have to.
Integrations
Intercom, Mixpanel, Zendesk, Google Analytics, Google Tag Manager, Magento, PrestaShop, Shopify, WordPress
How to implement Smartlook on these platforms
Dive into the minds of your users in less than a minute