StoragePug in a snapshot
StoragePug offers self-storage businesses a website platform called "Insights." The platform helps rent out facilities faster and attract new tenants. Moreover, the platform has 2 modules: a Lead Manager and a Unit Manager. They help StoragePug's clients manage facilities, nurture leads, and track data.
StoragePug serves 600+ self-storage businesses in the US. The company has many client success stories that underline the necessity of their product for this industry.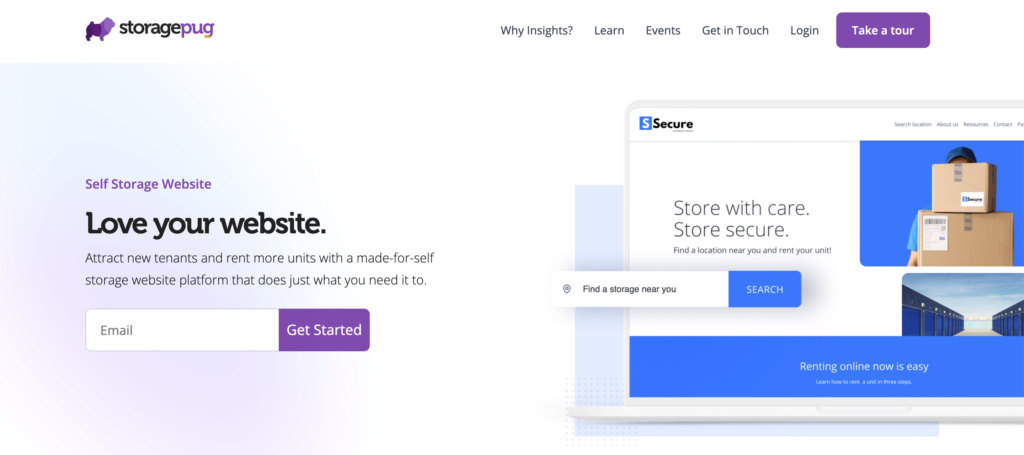 StoragePug searches for the right analytics tool during massive growth
With market traction, the brand broadened the focus from mom-and-pop to businesses with 30+ facilities in different locations. The change resulted in a 68% growth in yearly ARR (Annual Recurring Revenue).
But the fast growth came with many challenges. 2 of them being, how to keep their platform optimized and how to learn more about their customers' behavior.
To tackle those challenges, their Head of Design came up with an idea to get an analytics tool. She believed it would help the company get the right kind of data about their users' behavior and the unit rental process.
After giving Hotjar a chance, the StoragePug team realized that recent changes in that tool no longer helped them achieve their desired goals.
"We resigned from Hotjar because they removed funnel analysis, and we couldn't see where people were leaving the page. It was crucial for us to see the exact moment that the person is leaving and watch the session recording of it. Also, the heatmaps stopped appearing properly on our websites, the hot spots were not in the right places (i.e. next to the button rather than on the button)."
As StoragePug wasn't able to get all the data they needed from Hotjar, they started looking for a Hotjar alternative. The intention was to get a tool that had the following capabilities:
Funnels and custom event creation
Powerful APIs
Always-on session recordings
Advanced segmentation
After detailed online research, StoragePug decided to go with Smartlook.
StoragePug gets a smooth and agile custom implementation
Besides installing a tracking code, the StoragePug team used Smartlook's API to set up a series of custom events.
Although StoragePug got a custom implementation, everything went swiftly. Below, are examples of custom events created via API:
The number of visits to the Insights platform
Portal log-ins
Location page visits
Log-ins to the Lead Manager
Log-ins to the Unit Manager
Button clicks
New findings that power up StoragePug's website platform
StoragePug uses the full potential of Smartlook, from session recordings and custom events to funnels and heatmaps.
"Smartlook is a great help for us. When we release a new feature in our product, we want to see how it impacts our clients. So for the first couple of weeks after release, we watch session recordings and look for behavior patterns or any abnormalities. Some people in our company filter session recordings by custom events, which saves their time."
Smartlook provides insights about feature adoption
The StoragePug Product team launched a new feature called "scheduled email reports." They wanted to see if their users prefer the new way of accessing data over visiting the interface of the Insights platform.
The team filtered session recordings, leaving only those with users who tried the new feature. After watching this set of recordings, they validated that the users prefer to access data via the scheduled email reports than visit the platform itself.
Based on those findings, and after seeing that this new feature remained stable, the team decided to promote it to their whole user base.

An even more user-friendly interface thanks to data from Smartlook
At first, the Product team designed tiles in the Lead Manager that were small and non-interactive. Session recordings gave a completely new view into what the users' expectations are.
Recordings revealed that users tried interacting with those small tiles. They wanted to access a specific dashboard, for example, to see all the details about their new contacts.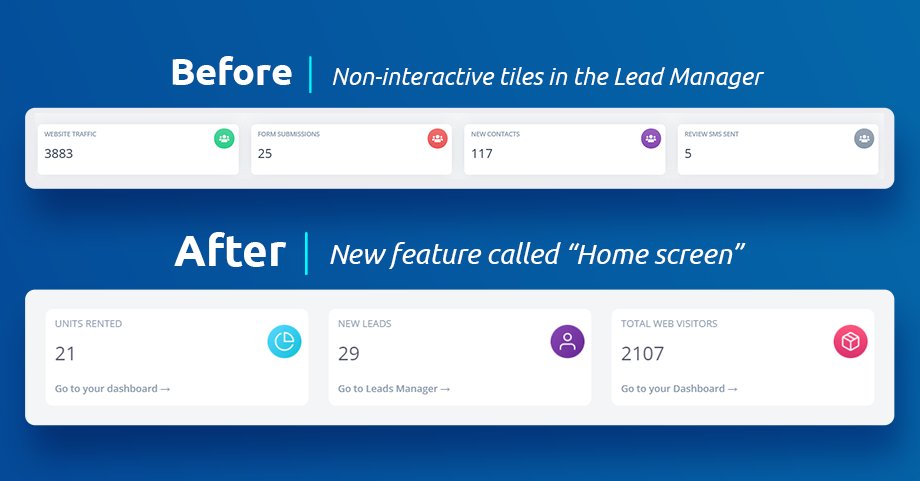 This information was a game-changer for the StoragePug team. When they saw loads of rage clicks in the tile area, they planned to change the Lead Manager tiles into their next feature called "Home screen". The new feature had bigger, clickable tiles, and fresh microcopy. Now, users can get into their dashboard details with just 1 click.
When it comes to making big-picture UI optimizations, the team uses heatmaps. They help them make decisions about placing certain features above or below the fold.
The customer success team saves 8 hours a week and becomes more efficient
By adding Smartlook to their tech stack, they can now provide an outstanding customer experience. When it comes to solving customer problems or tracking down bugs, they react fast and efficiently.
"Smartlook helps a lot in the customer success team. You know, sometimes clients come to our support but often, they come with inaccurate information. Thanks to Smartlook, we can filter session recordings by the customer's email and see where and why the problem happened. It saves our team at least 8 hours a week."
Session recordings help the customer success team explore any reported issue before they reach out to their developers. Only when the recordings confirm a bug, do they use their devs' help.
For developers, recordings are also life changing. When they want to reproduce a bug, they watch what steps the user took that led to a bug.
Strong data that strengthen the partnership
Here are the 3 ways StoragePug has benefited from using Smartlook:
They are aware of how users utilize each feature and if it makes sense to devote time to develop them further. With this knowledge and past experience of which feature is useful and which isn't, it's now easier to build a product roadmap that's more user-centric.
Smartlook made the customer success team's life easier. Before, they were often looking for problems with help from their developers, which was time-consuming for both parties. Now they can solve their clients' inquiries faster, without their developers' engagement.
Developers reproduce and fix bugs 10 times faster than before. Before, it was hard to find the step-by-step journey that led to a bug. With recordings, they have a new view of what led to a bug so the fix time is shorter.
Now, the StoragePug team is more efficient, agile, and data-driven. But what's most important, they keep on innovating the self-storage industry, providing world-class software to the delight of their customers.
"Thanks to Smartlook we stopped running around in the fog. We finally see real interactions between our clients and our product and ensure that it's intuitive for them. Smartlook was super easy to put in place, and we can't imagine our cross-team efforts without it."