AstroPay in a snapshot
AstroPay is a fintech payment application that connects 5M+ users with 500+ merchants in Asia, Africa, Latin America, and Europe.
The company offers:
AstroPay App – a digital wallet designed for users who need to perform real-time operations in their local currency and with local payment methods.
One Touch – a product that allows users to easily and securely make deposits and withdrawals directly from the merchant site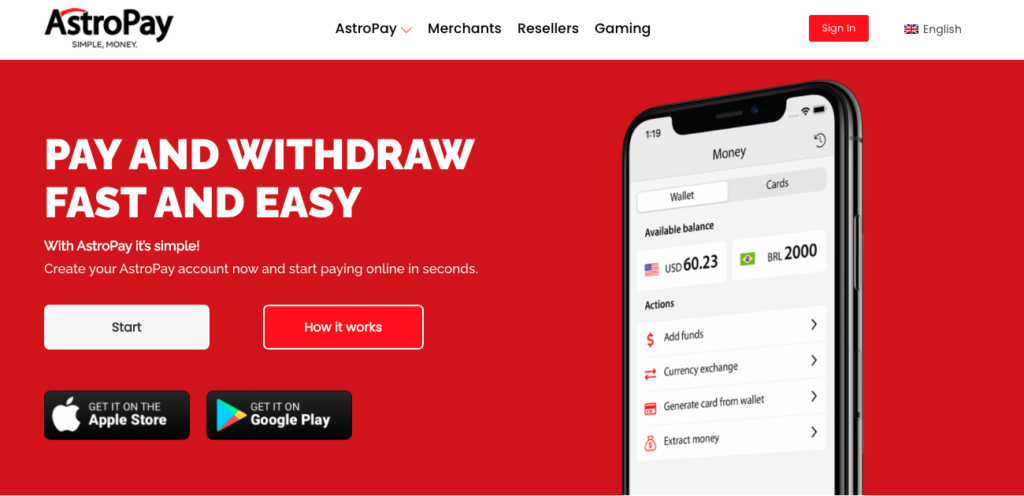 AstroPay wants to make more informed decisions about their web and mobile application
In early 2020, AstroPay didn't have much granularity in their data about how users interacted with their product. They didn't feel that they were focused enough on feature adoption and the user journey.
To take a more informed approach, the AstroPay team decided to invest in a behavioral analytics tool. With the tool, they wanted to:
Analyze data about the user journey
See feature adoption
Detect anomalies and bugs
Catch where users get stuck
Stay compliant with privacy regulations
After getting analytics data, AstroPay wanted to back every decision with relevant information. As a fintech company, they had to choose an analytics partner that was cognizant of their privacy compliance needs.
Smartlook becomes an alternative to Hotjar and Lucky Orange
At first, AstroPay chose Hotjar for their website app and Smartlook for their native mobile apps.
But the constant switching between the tools was troublesome. Another problem was that Hotjar didn't support native mobile analytics, which made the AstroPay team search for a tool that tracks both website and mobile app. They tried Lucky Orange, but it didn't support mobile either.
"You know, at some point we got enlightened: 'Hey, we had a good experience with Smartlook, and it would let us track both website and mobile, let's implement it on our website as well.' And I think it was a good decision – Smartlook is easy to use and we have both projects in one place."
Successful migration sealed the deal between AstroPay and Smartlook
Website tracking code implementation was as easy as on mobile back in the day. In evidence, even a newly hired AstroPay employee managed it in a couple of hours.
"I like Smartlook because it's easy to work with – when we have a new team member, it's a matter of hours until they figure out Smartlook and we don't have to spend too much time on training them."
How AstroPay uses Smartlook to optimize sales funnels and product interface
Most product teams use Smartlook. They create event-based funnels, heatmaps, and use session recordings. So far, they optimized the sales funnel, product user interface, and the whole purchase process.
Every development team followed an iterative process and supported their decisions with data from Smartlook.

"Smartlook is very helpful in understanding why some users are unable to complete certain flows, as we can see exactly what steps they followed, as well as where they see errors or decide to abandon the flow."
AstroPay simplified the purchase flow for their users
Before Smartlook was implemented, it took 3 steps for AstroPay users to buy foreign currency, which made the process hard to complete. The team created a 3-step event-based funnel to analyze the purchase flow in-depth.
They realized that the biggest funnel drop-off happened on the 1st step. With data from Smartlook, the AstroPay Website team revamped the purchase journey.
"Smartlook helped us improve our most important sales funnel. After making the user journey one step shorter, the drop-off rate decreased by 42.72%."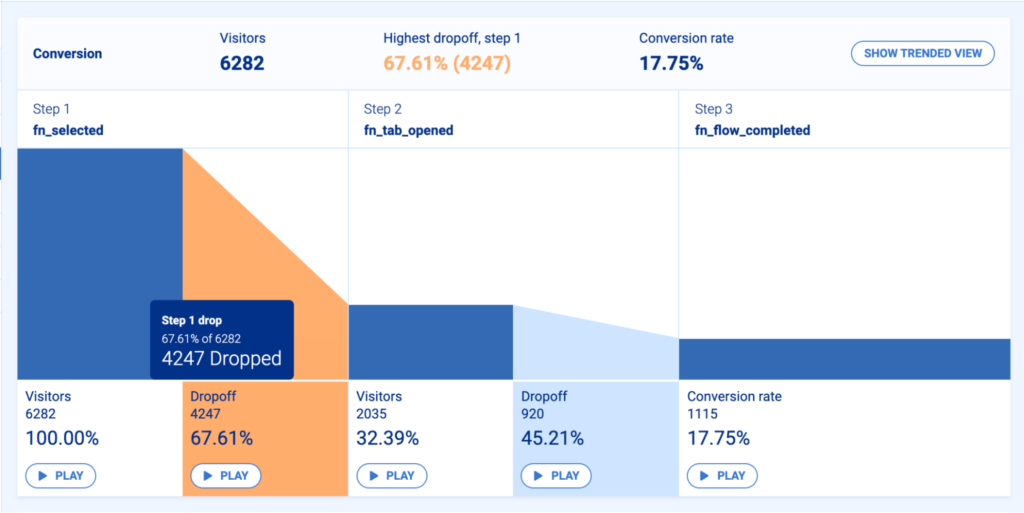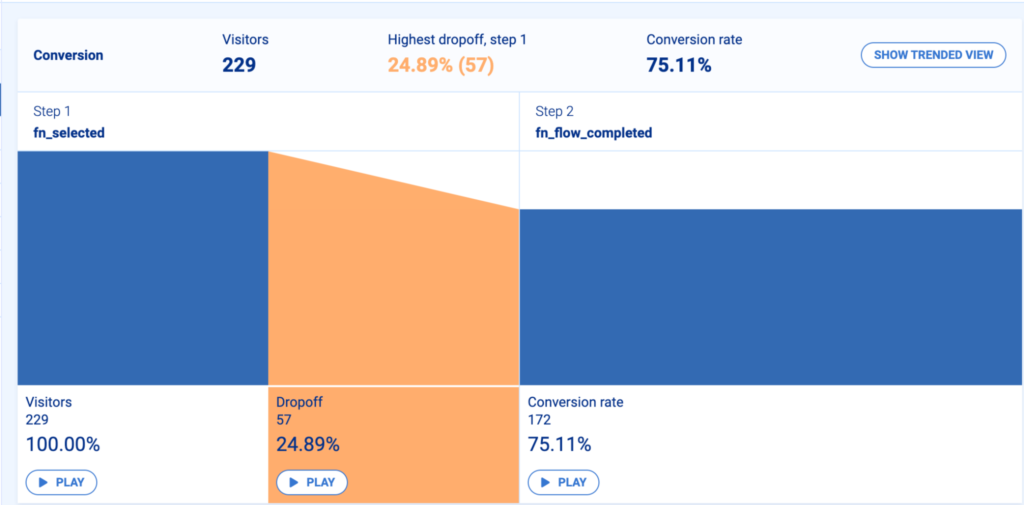 More intuitive user interface with new visual elements
The AstroPay team wanted to encourage their visitors to switch to their preferred language version of the website.
The team couldn't agree if they should add interactive flags next to the language version, or if they should leave the interface as it was. Some team members were concerned that the flags would be confused with the unrelated "gift card" feature.
Finally, the team agreed to add the interactive flags and monitor them with Smartlook's session recordings and a heatmap. It actually turned out that users found the visual flags easy to understand.

"I wish we knew Smartlook earlier, it would take many problems out of the equation. The tool helps us solve our team's discussions when there is one opinion versus another. Instead of being led by hunches, we look at the user behavior data. With such evidence-based decision-making, we're sure that our actions serve our users in the best way possible."
The Cryptocurrency team reduced buyers' anxiety and drove conversions up by as much as 56%
Smartlook helped the AstroPay team spot problems in the cryptocurrency purchase process.
The team created event-based funnels and detected an anomaly there – a lot of AstroPay users resigned from completing a cryptocurrency purchase.
After session recordings analysis, the Cryptocurrency team concluded users were dropping off because they had more steps to accomplish when they didn't have a local currency in the e-wallet.
After the team added local currency as an option to finalize cryptocurrency transactions, the conversion rate grew by 56%.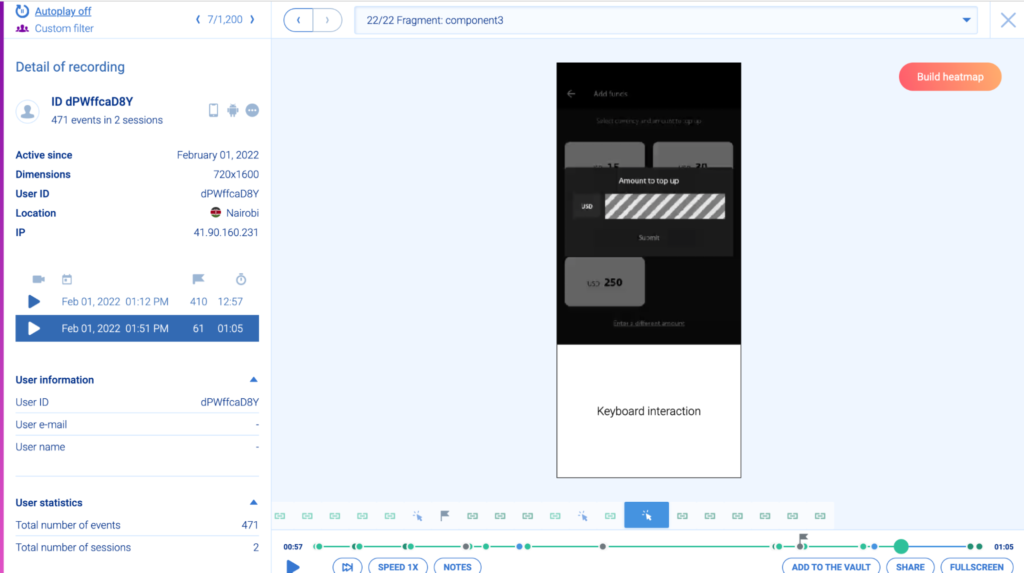 Another finding in Smartlook was that users spent between 3–5 minutes searching for their newly purchased cryptocurrency inside the AstroPay wallet. Users didn't know that the transaction was pending, which resulted in a reluctance to buy cryptocurrency in the future.
To reduce buyer anxiety, the Cryptocurrency team provided each cryptocurrency buyer with a banner "Purchase pending." This reduced users' hesitation and now users buy cryptocurrencies in less than a minute.
Partnership for the next decade
AstroPay started out from a self-service and grew to a customized website and mobile analytics project. Now, they've a Smartlook's account manager that ensures they reach their analytics goals. The fintech company is one of Smartlook's power users, getting many business advantages out of this mutual cooperation.
These are 3 key business outcomes:
AstroPay justifies every decision with reliable data from the analytics tool. There are no more guesses, hunches, or pointless discussions. Every decision is based on data which results in a healthier bottom line.
Smartlook empowers every person in the AstroPay team. With a behavioral analytics tool, everyone in AstroPay has a chance to propose ideas for improvement. It makes their brainstorming sessions more productive.
The AstroPay team monitors new and existing features and analyzes feature adoption. The tool also helps them detect anomalies and build a web and a mobile app that's user-friendly, safe, and bug-free.
What's important, Smartlook provides AstroPay with tools to limit collection of personal or sensitive data that may be subject to the GDPR or LGPD. The tool hides all the personal data, so AstroPay can focus on providing the safest and simplest financial app for millions of people.
"You know, we tried other similar tools before we chose Smartlook, and in comparison, there was always a bit of a learning curve. In my opinion, Smartlook is easier to grasp. And we have this personal touch, and I feel like both AstroPay and Smartlook grow together, helping each other provide better products every day."