Hookle in a snapshot
Hookle is a Finnish startup that offers a social media management app for Android and iOS. Developed with Flutter technology, Hookle's app provides an easy-to-use interface and a great user experience.
The app helps busy entrepreneurs and small businesses in managing their social media accounts and improving their brand recognition. So far, 10k+ users in over 130 countries boosted their social media presence with Hookle.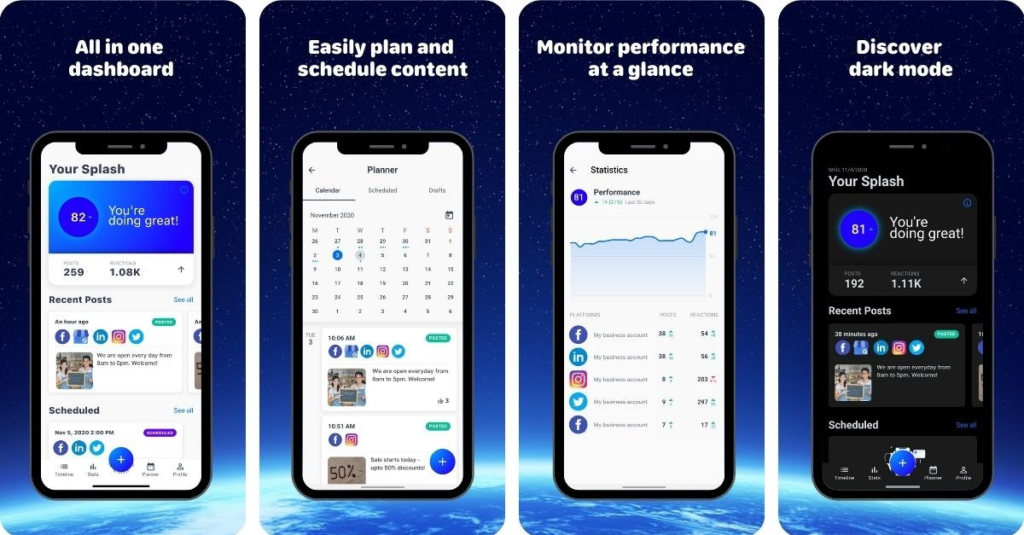 The pandemic stopped Hookle from collecting user feedback
Not all companies treat feedback from their users as a gift.
However, the Hookle team is different – they always want to hear from their users and learn if there's room for improvement.
But when their product was ready to collect the first round of feedback, the COVID-19 pandemic hit with a vengeance. This is an exceptional factor because the Hookle team couldn't meet with their users face-to-face.
"When COVID-19 broke out, we couldn't meet with our customers and learn what they thought of our app. During a team discussion, we realized that we actually need a tool to learn something about our customers and their in-app behavior." 
They had very high expectations towards using a new analytics tool.
The Hookle team wanted to:
Check which features in their mobile app are useful for their users
Improve user experience (UX) and app usability
Give their users fast and accurate support
On a more granular level, they wanted to check whether the chart is useful to their users or which buttons are the most important.
Another crucial case for Hookle was troubleshooting bugs. Problems with bug reproduction was an annoying experience, so the Hookle team wanted to find error sources faster.
All those expectations came down to the most important goal – to delight their clients, so they leave 5-star reviews on Google Play, Apple Store, or peer-to-peer review sites.
Hookle wanted a mobile analytics tool that supports Flutter technology
The Hookle team developed their app in Flutter, so their new mobile analytics platform had to perform well with this technology.
In the beginning, the Hookle team tried UXCam, a mobile qualitative analytics tool.
"We tried UXCam, but the company's pricing was hidden in a way. Thus we continued searching for and evaluating other available options in the market. Luckily, we found Smartlook that also supports Flutter technology. As it happens, Smartlook came out on top for us as a great investment with clear, straightforward pricing."
Smartlook turns out to be a true gem in Hookle's technology stack
Smartlook's implementation and onboarding processes were straightforward. Good documentation helped Hookle's developers connect Smartlook with their tech stack, in super quick time.
Now, it's been 5 months since Hookle has been gathering valuable insights on how users experience their app, for real. What did the Hookle team achieve in this short but intense 5-month timeframe?
Shorter and more intuitive user onboarding
The Hookle team wants to provide a fast and intuitive mobile onboarding experience for their users. They want to make sure that their users know how to synchronize their social media accounts with the Hookle app.
"Instagram and Facebook didn't make it clear to users how to sync their accounts. It required a certain amount of time and was troublesome for users. We wanted to make it more frictionless. With Smartlook's screen recordings, we improved the app onboarding. Now, there are no failed onboardings and account connections."
Hookle's support team reacts to customer problems upfront
A happy customer is the key to exponential business growth. The Hookle team understands that concept very well, so they want to be proactive to their customers' inquiries.
But sometimes, it's hard for the support team to fully understand the issue a customer is facing. For instance, there are mismatches between what the user describes they did and what actually happened. Session recordings from Smartlook make it easy to solve any discrepancies and find the root problem faster than any other data could ever do.
Thanks to recordings, the development team saves 10 hours a week on bug finding and bug reproduction. That's an amazing amount of work hours saved each week.
But that's not all. Once a support specialist noticed that one user had a problem with publishing his posts, they reached out to him and showed him what was going wrong. And it didn't take long for the customer to show his gratitude by writing a 5-star review, which you can read below.
Heatmaps let Hookle verify their hypotheses faster
In the Hookle app, a user can swipe the statistics chart in different directions. Hookle team's first assumption was that users view the chart a lot and interact with it. They were also wondering what part of the chart is the most popular.
But the heatmap verified their hypothesis very fast. It turned out that their app users rarely interact with the statistics chart. Thanks to Smartlook's heatmap feature, the development team resigned from making the chart more interactive and saved 2 whole weeks of development time.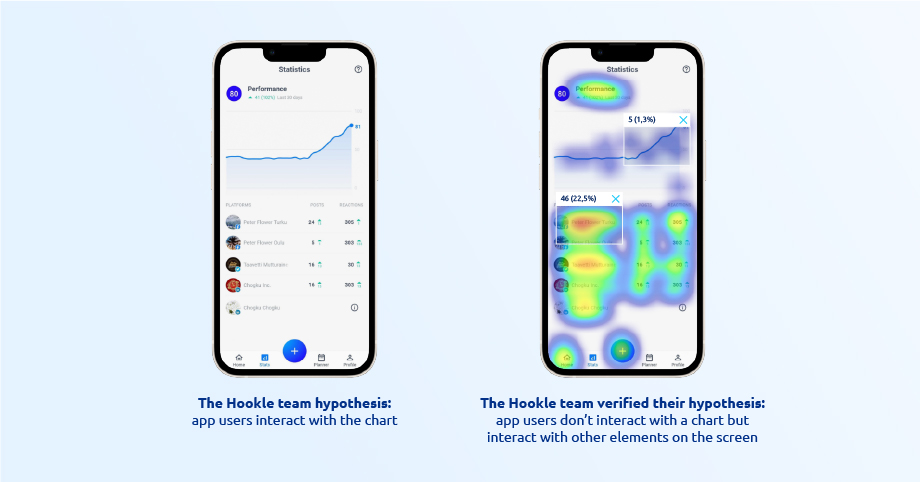 Results that sealed the partnership for years
Thanks to Smartlook's helpful insights, the Hookle team improved user experience and app usability. And the truth is, a steady stream of feedback about intuitive design flows down from review websites.
This is how Smartlook changed the way Hookle works:
Upfront action to solve customer problems before they reach out to the support team
Fast hypotheses' verification
An intuitive and user-friendly app interface
"We still work on our product. Smartlook is one of the most important tools to understand our users and design a product roadmap that fulfills their needs. Smartlook is an industry pioneer – it's intuitive, flexible, and easy to integrate. Oh, and yes – it supports Flutter technology, which is extremely important for us."