Event tracking combined with recordings
Today marks exactly two years since Smartlook was launched, and we're back at it with a fresh start. Our team has grown to 30 members, and we have invested over $1 million in the development of Smartlook. On this two-year anniversary, our nearly 200,000 users were greeted with a completely improved Smartlook — new features, a fresh look, and a revised vision. We want to share with you why these big changes are happening and what you can expect in the coming months.
Back in 2016, we set a simple goal: to provide people with a solution that helps them improve and fine-tune their website or product. Emphasis was put on simplicity and affordability. The market was saturated with complex analytics tools, so we chose not to brand Smartlook as an analytical tool, but rather as a service where you press play and a movie starts. Our users only needed to know how to make popcorn, and the rest of Smartlook would be simple. Plus, the cost of the basic paid package would be the price of two movie tickets.
A year later, we noticed that the session recordings themselves were not enough for our users. It was necessary to improve filtering and display more interesting data. At that time, we recorded around 350 million visitors a month. So we brainstormed, planned, prepared, and got to work. Below are the results — all the changes that we've made in the past eight months! Enjoy.
Event tracking combined with recordings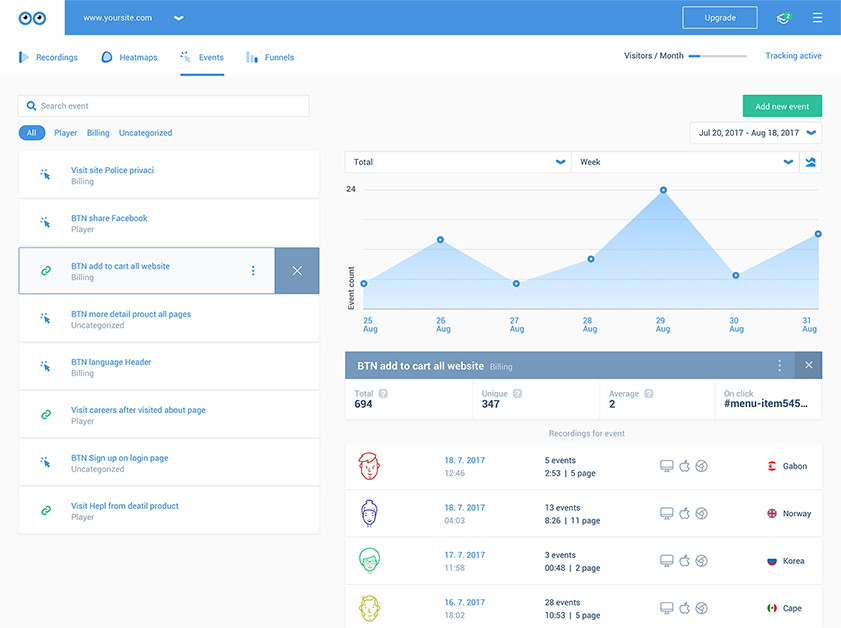 Before we could begin thinking about the future of Smartlook, we needed to know what our users were doing most often in the product and how often they returned to these activities. Put another way, we needed to track their events. We were wondering whether there were differences in events between Free and Power users, which limitations in the Free package most often made users buy paid packages, and other events-related topics.
We found that we could read this information from past recordings and display them in a chart. If we saw a drop or growth in the chart, we could immediately play the recordings of users that triggered that event. This gave us context for the numbers and charts that no other tool would show us. We saw a great added value in this, so the new version of Smartlook allows you to track events on your site. Event tracking is automatic, and you will not need a developer to implement it. Learn more about event tracking and make your product better with Smartlook.
Funnels made from events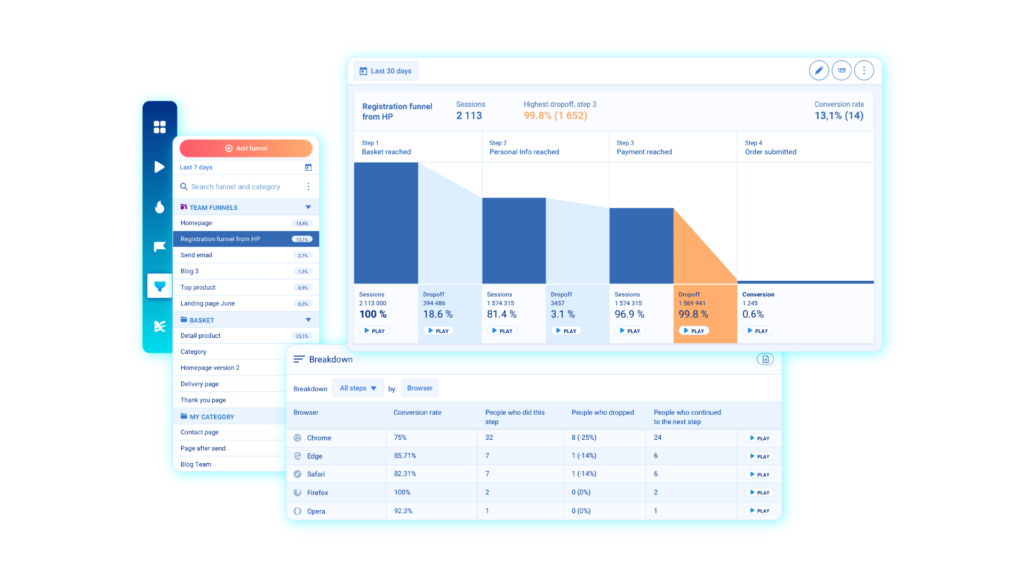 Once we had the opportunity to watch events, we put them in sequence and created a funnel. Smartlook is a single-page application (SPA), as are many of our users' applications. If you want to track the purchasing process in SPAs, you need a funnel composed of various events. The URLs in the purchasing steps (1. product selection, 2. billing information, and 3. payment) do not change, so you can only create funnel steps by tracking clicks on the "continue" button in each purchase step. Funnels with recordings give us the chance to answer why some users do not complete the last purchase step. Sound interesting? Smartlook will launch this feature in the second quarter of this year.
Recording segments and new filters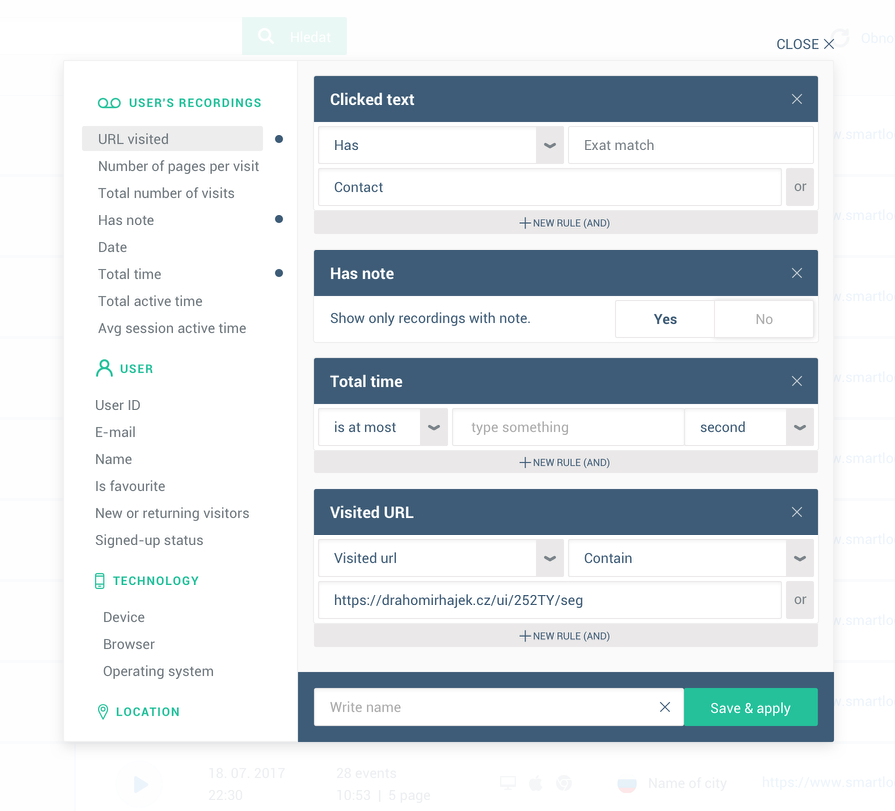 From now on, you can create a filter for recordings in Smartlook and save it as a segment for future use. We've added the ability to filter by browser type, UTM tags, or city — and you'll soon be able to filter recordings by clicking on a particular text or CSS selector. We've created a new API through which you can send your own custom events and pair them with a recorded user, and you can filter by these events later.
Better packages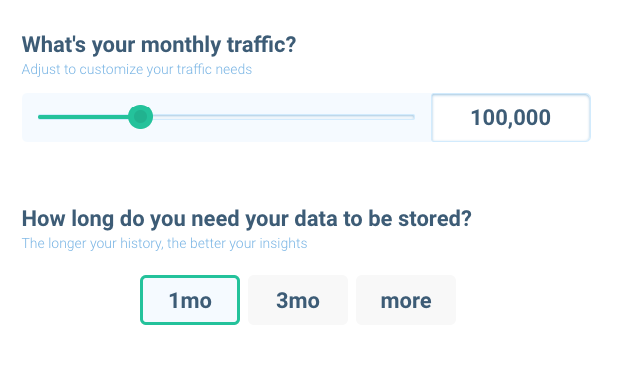 With new features comes new pricing. The original packages — Starter, Standard, and Power — were combined into one, simply named Starter. A more powerful package with even more features is called Power. From now on, you can choose how many visitors you want to record in either package. You can also choose a longer history to store your data.
All current customers are not affected by the new pricing. The only thing that changes is the package name. If you previously had the Power package with a limit of 150,000 visits, you will now have the Starter package with a limit of 150,000 visits. The features in the Starter package are the same as those previously in Power package, and we added all the new features described above.
There's more…
In the coming months, we'll be adding filters that will allow you to find bugs on your site and also recommend important recordings. On top of that, do you have your own mobile app? This summer, you'll be able to record mobile apps for Android and iOS!
In a nutshell, we are slightly altering our original vision. We are aware that the new Smartlook is no longer just about clicking a play button and munching on your popcorn. But we believe that these new changes will appeal to you. It's clear to us that we will have to explain a lot of things, and that's why new Smartlook School articles are in the works. Additionally, we've decided to improve Smartlook based on user feedback, so if you come across anything unclear, it will help us if you let us know.
The changes happening in 2018 are just the beginning of what Smartlook has to offer. We look forward to enjoying this adventure together with you. From the entire Smartlook team, thank you for your feedback and patience. Now — let's take a look at the new Smartlook.