What does this look like?
When you open a funnel you will always be able to select different columns (steps) of the funnel. You can also click between any two events to focus on the visitors who drop out of the funnel.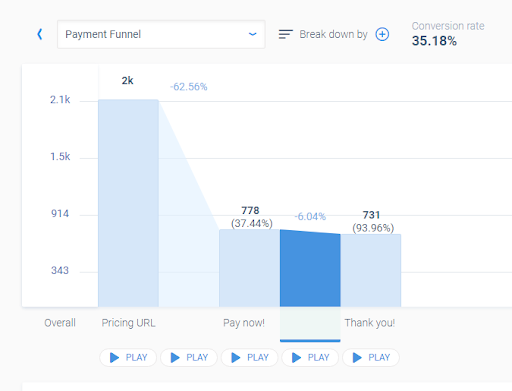 And now comes the great news – you can now investigate further by clicking on the "Break down by" button to be presented with a clean and logical break down off all the user's behavior in the funnel.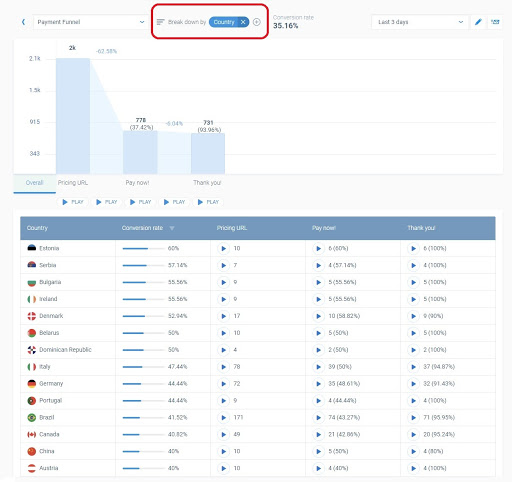 A three-step funnel (above) with the breakdown table below it showing all the steps of the funnels broken down according to a property. In this case, 'Country'.
And of course, breaking down funnels by country is just one of many examples.
Locations such as Country, city, and state are all standard properties that can be used. As are technology properties such as browser, device, and operating system.
Customization is key: Smartlook lets you add your own properties to get personalized insights
As always, we make Smartlook as customizable as possible. That's why we've made it possible for you to set up and add your own custom properties. In essence, the limitations have been removed and your team can decide for themselves which properties are valuable for your situation.
E-shops can easily segment event or funnel properties.

Similarly, if you're working on the latest gaming app, event and funnel breakdowns also work for Android and iOS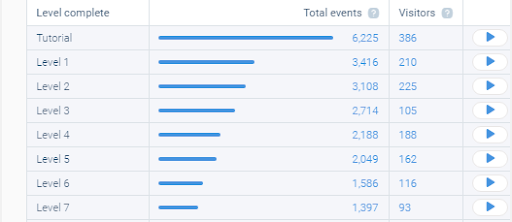 If you're in SaaS and want to find your ideal user, breakdowns show you the relevant data before taking you to the recordings to find answers to your questions.

How easy is this setup?
If you're worried that this is a complicated setup, you'll be happily surprised.
It takes two clicks to break down a funnel.
This makes funnel breakdowns a very convenient tool which also saves you time. And because Smartlook can create funnels retroactively, you can find information in a matter of minutes without waiting for new data to come in.
Here's an example of how quickly you can break down a funnel to find out which countries have the highest conversion rate. Just two clicks and the breakdown table is loaded:
1: Click breakdown by
2: Select a property. In this example, 'Country' is the property.
Why use Funnel breakdowns?
Breaking down Funnels is another valuable tool to be able to visualize data quantitatively (the metrics) and use the table as a quick method to get to qualitative (the recordings) analysis.
Using Custom properties, you can customize Smartlook to have the correct data available in order to get answers to the questions you have.
Using recording data, you can build funnels retroactively in a matter of seconds. There's no need to wait to find answers.
So far in 2020, we've released event and funnel breakdowns, Devtools, Retention tables, and we have many more features in the works to make Smartlook even better.
To learn about funnel breakdowns or any other of the many features in Smartlook, check out our documentation here.
Open a free Smarlook account here