About the company
Disqo is a marketing research company known mainly for its large survey base.
In the age of GDPR, CCPA, and "cookies-free" policy, it's increasingly challenging to gain feedback from a target audience. One of the available options is to use surveys.
Disqo is running a massive online community, Survey Junkie, where millions of users are willing to share their insights and provide feedback. The online community serves as a service for companies eager to get genuine answers from real people.
People at Survey Junkie use a designated website or a mobile app to fill in questionnaires. Once they finish a survey, they are rewarded with gift cards or cash.
Disqo uses its survey platform, among other tools, to help companies evaluate their advertising campaigns or test a new design.

Over the years, the team at Disqo integrated Smartlook deeply into the company and developed a system on how to get the most out of behavior analytics. Let's look at a year-by-year overview:
2017: Customer support discovers Smartlook
Disqo officially became our customer on February 13th, 2017, for the symbolic monthly fee of $100. The company was amongst one of our first paying customers. It was just 1 year after Smartlook was founded, and all resources were invested into development and almost none of them into promotion, making Smartlook a new under-the-radar tool.
Why Smartlook in particular? Because customer support at Disqo was looking for a tool that makes identifying their customers easier. The team at customer support could now search users by their email address or their ID. They also highly appreciated the ability to sort users by their location – that filtered out people from countries that were not supported.
Smartlook was quickly integrated for everyday customer support tasks, like:

At this phase, Smartlook is used solely for the purpose of watching individual users who are reporting issues.
2018: The product department gets involved
It simply happened by coincidence – David – one of the company's product managers, noticed a tool on a screen of one of his colleagues from customer support. David had never heard about Smartlook before but immediately he started to investigate if there could be any use for this tool in his product department.
Instead of waiting for dissatisfied customers to contact customer support, David decided to proactively use Smartlook to prevent problems in advance. By measuring activity in the Events manager, the product department was able to anticipate particular issues on the website where customers were struggling.
One of the parts that required special care was the sign-up process. Product designers at Disqo looked at videos of the initial sign-up experience to see where users were getting stuck or having trouble continuing. Perhaps a lot of users were clicking on the wrong button or answering the initial questions incorrectly.
"After implementing insights retrieved from Smartlook, 20% more people were able to finish their registration successfully," says product manager, David Agajanian.
Events were also perfect for finding out if a new design works as expected – if there are only a few people using the new feature, something was wrong.
2019: Developers are part of the Smartlook group
So far, customer support and the product department are working together to report and prevent issues. One piece of the chain is missing, though – developers who repair bugs in the first place.
A new product manager got an idea to implement Smartlook directly to the developers' teams and share the reports with individual developers in order to create an effective debug workflow.
Regular reports were created, warning developers about possible issues that could easily be achieved by observing spikes and other irregularities in events, which often signals a potential problem.
Another new process involved regular UI testing – from now on, every change in design was evaluated by using Smartlook tools – especially events. If any new design didn't have good numbers in Smartlook, subtle changes were made, and customer support carefully evaluated the users' reactions.
2020: A well-oiled machine with a single goal – destroying bugs
In 2020, more people were trained to use Smartlook, especially those coming from customer support. That gave the product managers and developers more tips for uncovering bugs.
Debugging workflow: From reporting the issue to fixing the problem
Over the years, Smartlook users at Disqo developed a well-oiled machine on how to get rid of bugs.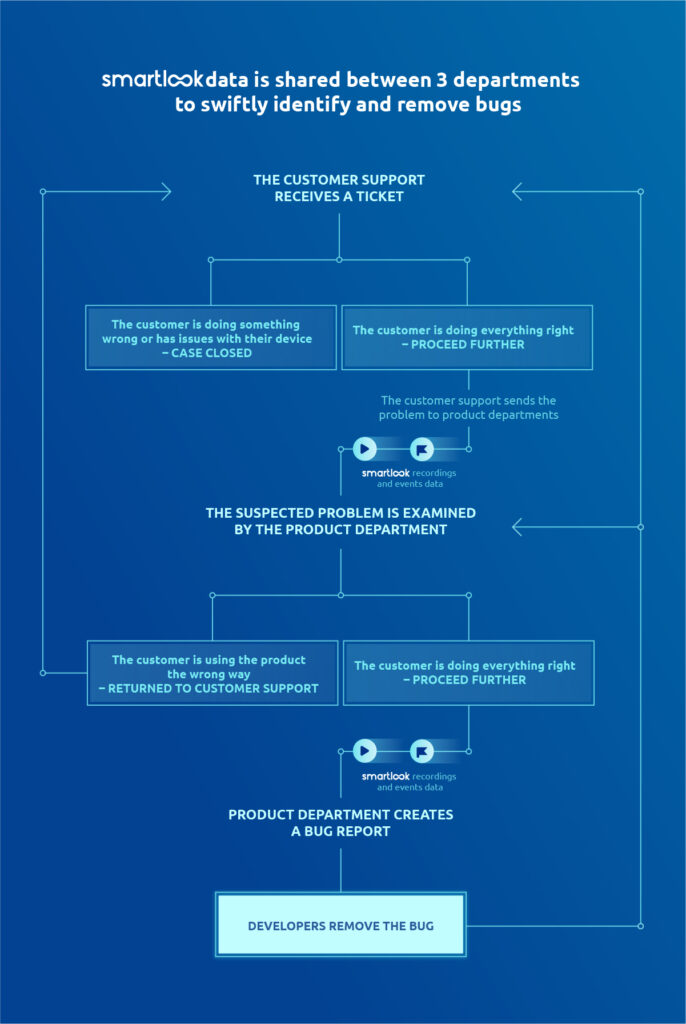 Weapons against bugs:

The future:
Smartlook's NextGen platform released at the end of 2020 brought several positive changes. The main one is that NextGen made it much easier to focus on user privacy.
Besides, it is now much simpler to switch between the different developer environments from testing to staging to production. NextGen was designed to work in teams. Currently, Disqo is trying to fully utilize the report sharing and user permission system to polish their already well-developed workflow.
Anomaly detection released in the spring of 2021 made life easier for the product department. Instead of manually investigating spikes in events, product managers simply wait for an email announcing a sudden change.
The biggest upcoming challenge will be to integrate Smartlook into the mobile app using Smartlook Mobile SDK.
Wrapping up:
The Disqo case study is a mirror of our development journey at Smartlook. In the beginning, they used Smartlook as a simple gadget for customer recordings. Gradually, as we offered more and more features, the great team at Disqo was able to fully utilize Smartlook as a powerful all-in-one tool.
Unfortunately, many of our customers still get stuck on the basics and are using only basic features such as recordings and heatmaps. Using advanced features and connecting different departments helps deal with issues and prevent problems while streamlining the overall flow of projects.