The day-to-day tasks of your technical support team are numerous. They are required to master customer support skills for handling clients who're often upset or frustrated by some situation. Team members also need thorough knowledge of your product, as there are many reasons why something could go wrong.
Without proper processes, your technical support might spend too much time figuring out what should be done instead of assisting your customers and delivering value. Streamlining your processes can be the first step to a well-performing and effective support team.
Tools are equally important, as sometimes spotting the reason for an error can be like looking into a crystal ball. As long as you don't have one of those in your toolbox, you should settle for other solutions.
If your team isn't performing well, it's high time to take a closer look and find out what can be done to help them. In this article, you'll find some helpful tips and hints to figure out the solution for your team.
We'll talk about:
how to spot if your technical support team needs extra care,
what you can do to improve your technical support,
how sessions recordings and events may turn out to be that crystal ball.
Ready? Let's dive in!
Does your technical support team need attention?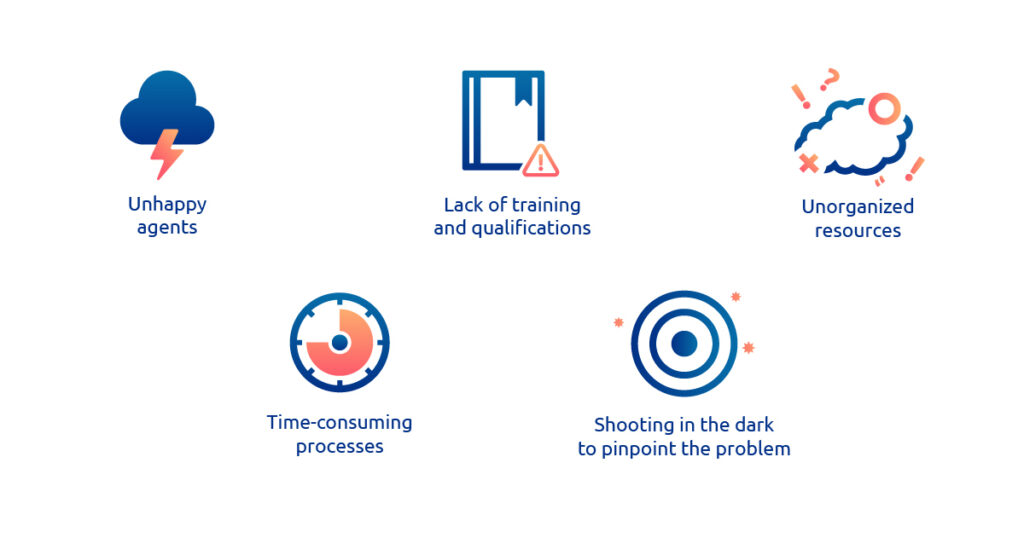 Let's start with a diagnosis. What are the signs and symptoms which show that your technical support team needs some more attention?
#1 Unhappy agents
If your team isn't as willing or motivated to work as they once used to, it should be the first signal to take a closer look at the situation. Various factors influence your team's well-being, from natural changes to issues that you can act upon.
The natural mechanisms of team formation can play a role here, especially in recently created teams. You're probably aware of Tuckman's model of team development – forming, storming, norming, and performing. In short, it covers four stages that your team has to go through to perform at its full potential. When you're in the storming stage, your agents might seem discouraged and frown upon your ideas.
The natural dynamics of your team aren't the only possible reason for your agents' gloominess. Internal communication problems, lack of motivation, times full of struggle – there can be multiple causes behind their attitude. Spotting them early can prevent the situation from getting more and more complex.
#2 Lack of training and qualifications
Do your team members feel comfortable and confident when it comes to their daily tasks? Do they have all the resources they need? Since they need different skills to properly manage their daily tasks, even basic training processes for new employees can take a lot of time.
When your new team members have finished their basic training, team development shouldn't stop there. Make sure to constantly look out for areas in which your team members can improve. Don't limit yourself to strictly technical topics. Bringing a customer support expert on board to help with handling customers and answering your agents' questions can profit in the long run.
#3 Unorganized resources
When your agents have to dig through numerous knowledge bases or other resources to find the information they need, it's a tremendous waste of their time and capabilities. Gathering everything they need in a well-organized, accessible way can significantly impact the speed and effectiveness of your agents.
#4 Time-consuming processes
How much time does your team spend on tasks other than solving your customers' tickets? Here, you can classify actions like filling out reports, looking for information, picking up the next ticket to act upon, or other mundane but necessary processes. Often, they are where you can find a lot of room for improvements. Investing time in upgrading those processes can result in a better-performing team.
There's where automation solutions can come in handy. Whether it's about making use of integrations between your tools or looking out for something new to implement, delegating tedious tasks to software can change your workflow.
#5 Shooting in the dark to pinpoint the problem
When your clients experience a technical issue, it might be hard for them to recall exactly what happened right before the problem occurred. They may just miss some essential information that is necessary for quick resolution of the problem. Of course, this can negatively affect your team's performance, causing them to spend a lot of time blind guessing the root causes.
With experience, they can train their intuition and get to the correct answers quicker, but it will still take more time than working from a full set of information from the very beginning.
How can you improve your technical support?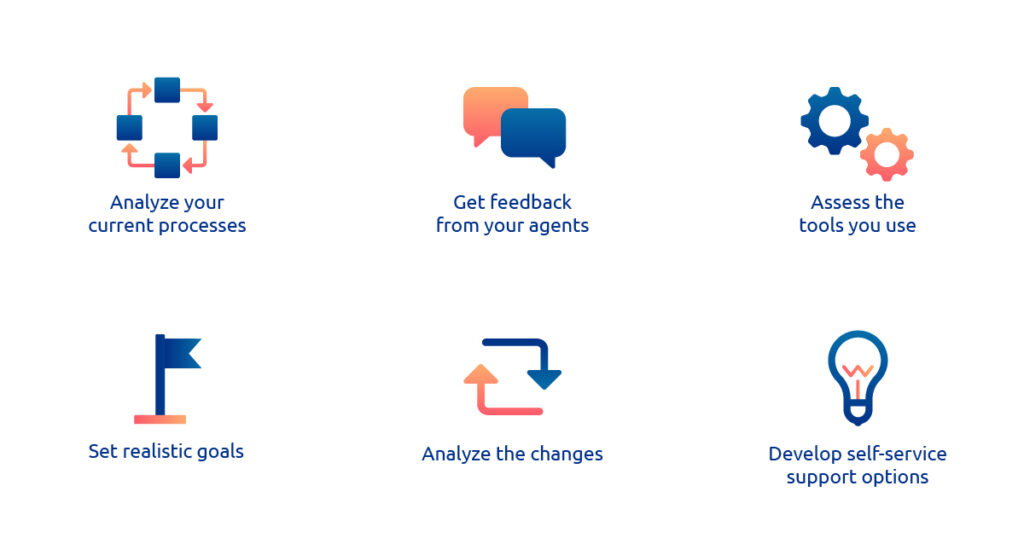 When you don't know where to start, improving your technical support can seem overwhelming. Here, we will walk you step by step to help you with dividing the process and working towards your success.
#1 Analyze your current processes
The first thing you should pay attention to is the state of your current processes. If it's the first time you want to work on them, you can start by preparing a map. This kind of schema will help you gain a fresh perspective. If you've had one made before, just review the map to see if it needs refreshing.
When analyzing your processes, look out for bottlenecks. Also check if your agents don't double up on their efforts: for example, when two of them mistakenly work on the same ticket. Another point is finding tedious, manual tasks that can be automated. After such analysis, you'll be able to generate possible solutions.
#2 Get feedback from your agents
You can get a lot of information directly from your team. Ask them to find out what can be improved, where the bottlenecks are, and what issues they deal with daily.
They can show you different perspectives and shed some light on their challenges. Make sure to include their comments and suggestions when you choose which solutions to try out.
#3 Assess the tools you use
Tools are an important part of your team's daily work. When you have already analyzed the processes in your team, you can spot areas where tools can take some weight off your shoulders. Make sure you use them to their fullest potential: focus not only on their features, but also automation and integrations with others from your toolbox.
It's also a good moment to look out for alternatives or new solutions that can have an impact on your workflow. Sometimes checking out a new provider can go a long way, especially if the tool you've been using for a while doesn't meet your needs anymore. Think outside the box and also look for solutions that aren't traditionally used exclusively in technical support.
#4 Set realistic goals
Improving the way in which your technical support works can be a tough nut to crack. That's why you shouldn't start by setting the bar too high. Opt for realistically achievable goals that will guide you in the right direction and won't discourage you from working on improvements.
#5 Analyze the changes
After implementing each new approach and tool or shortening your processes, you should pay attention to how it changed your agents' daily work. The step of assessing progress is crucial for you to learn what works in your team and what doesn't. Focus on the crucial metrics for your projects. Whether you notice an increase in your team's satisfaction, a decrease in time spent on each ticket, or some negative consequences, you'll be able to adjust your actions and draw insights for the future.
#6 Develop self-service support options
A good way to provide better technical support and streamline the workflow of your teams is to create self-service support options. From well-prepared knowledge bases to community forums, there are various ways to provide your users with new tools.
According to this research, they actually expect you to do so. 71% of customers tried to look for solutions on the Internet, yet gave up after 30 minutes without getting results. That puts an emphasis on the necessity to create an accessible resource. Doing so brings a wide range of benefits to both parties, according to Forrester. It creates lasting customer success that translates into increased engagement, conversion, and revenue.
Having valuable content available high in Google results brings you and your team several benefits. First, your customers will follow reliable advice and connect with your team when self-service options don't help them. You'll also work on your Google visibility and SEO, which can translate into boosting results for your content marketing efforts as well.
Session recording and events for your technical support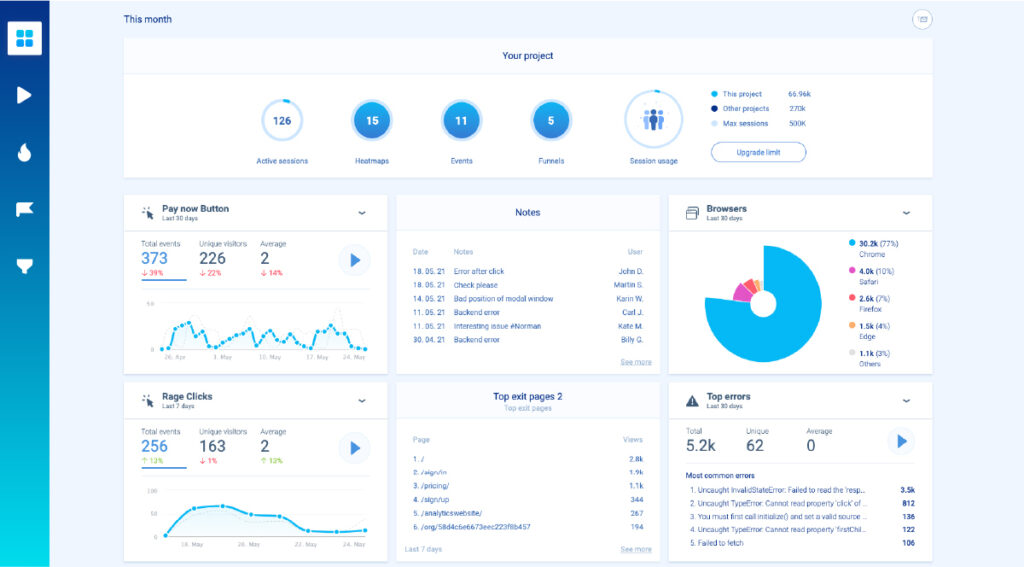 Remember the crystal ball? Although there's still no technology available to create it, Smartlook might prove to be a nice workaround.
User behavior analytics has been widely used in marketing and user experience design areas. It's also applicable for technical support, giving you several advantages. And Smartlook is an analytics solution that lets you understand users' perspectives without any guesswork.
#1 Session recordings
Session recordings are a rich source of insights into how users interact with the product and what problems they experience. These recordings show the image from your user's browser, reflecting exactly how it was displayed to them. It's designed in a mobile-friendly way, without slowing down the app or consuming mobile data.
For technical support, session recordings give you an invaluable look into the details: from what your users did just before a problem occurred to the exact error message. You can also see such information as the device used, localization, and operating system. This takes off your shoulders both blind guessing about processes and interviewing your (potentially already annoyed) clients.
Working on session recordings doesn't mean you have to watch all of them to learn something interesting. The tool helps you save time by automatically marking the most important parts of each session and letting you skip periods of inactivity.
#2 Events
Events are all the interactions your users have: from clicking on links or buttons, through typing text, to encountering errors. Their overall experience consists of those pieces and they hide tons of useful information for technical support teams.
Session recordings and events are tightly connected in Smartlook. You can look up recordings of sessions during which a given event occurred or see all the events that took place during the particular session you are currently watching. When you watch a particular user recording and spot an interesting situation, you can define it as an event and look up the same one in other session recordings.
For technical support, the possibility to define in which situations problems occur and if they are repeated is crucial for understanding their roots and learning how to prevent them. By creating your own custom event definitions, you can quickly spot those connections.
More importantly, you can set up automatic notifications for when any anomaly occurs. This means that whenever there's a spike in errors, you'll already know about it before your clients rush to you with complaints and tickets. Your team will be able to quickly find out what caused the problem, if it only affects a particular group of users, and what should be done to solve the situation.
#3 Self-service support options
User behavior analytics will also help you to assess the efficiency of your self-service system. You can observe how your customers go through the options you provide and when they decide to reach out for help. Also, you can detect the characteristics of the group who connects with you and those who solve similar problems themselves.
With this information, you can adjust the self-service system to suit the needs of your customers. Maybe it's about changing the way they can find information, or making it more digestible? User behavior analytics will help you find the answers.
Golden nuggets
There are numerous reasons why your technical support team might need extra attention. From changes in your team's attitude to ineffective processes and tools, various factors play a role – and often at the same time. Take a closer look and find out what happens in your situation.
Improving your technical support isn't something you can put on your to-do list and mark as done – it's an ongoing process. Focus on one change at a time, assess the results, and stay in touch with how your team feels about them. That's how you'll be able to spot what works and which solutions just aren't for you.
Also, don't be afraid to import solutions from different areas. Here, we've talked about a user behavior analytics system: how you can apply session recordings and event analytics to gain better insights into your customers' problems and provide them with more efficient support. We're sure, though, that you can come up with other ideas – give them all a try!