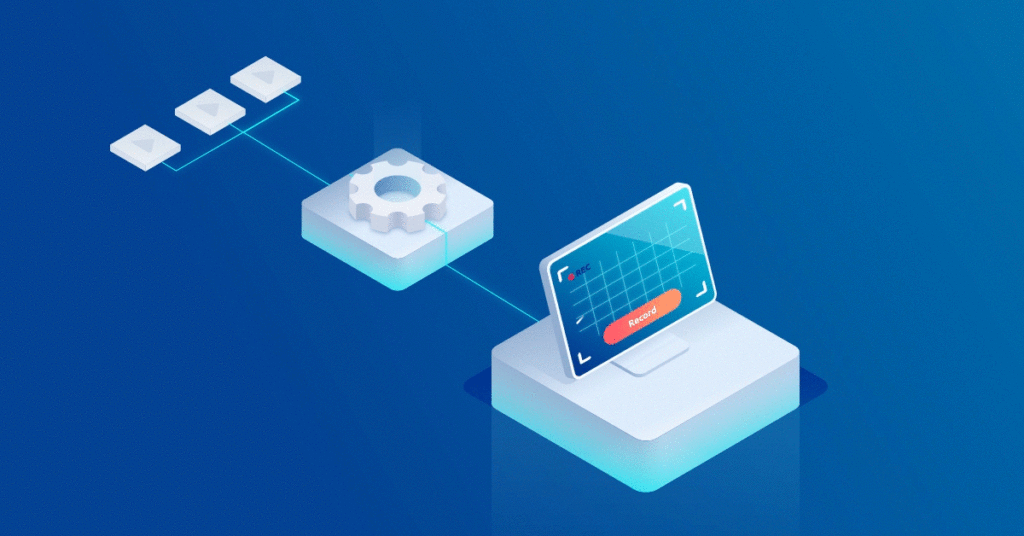 When it comes to choosing your website analytics software, there're so many things you should take into account. The features, price, flexibility, and support…. You name it. In this article, no comparison will be made between Smartlook with some other offers available on the market. Instead, you'll receive a list of reasons why you should carefully consider switching from your current software to Smartlook.
Let's get started.
The advanced filtering
As a business owner, marketer, or sales professional, you'll naturally want to find out as much as possible about your customers. When you tap into Google Analytics, you can find the basic data on your customers such as their location, as well as which pages they visit on your website and for how long.
However, Smartlook goes 1 step further, or 30, to be precise.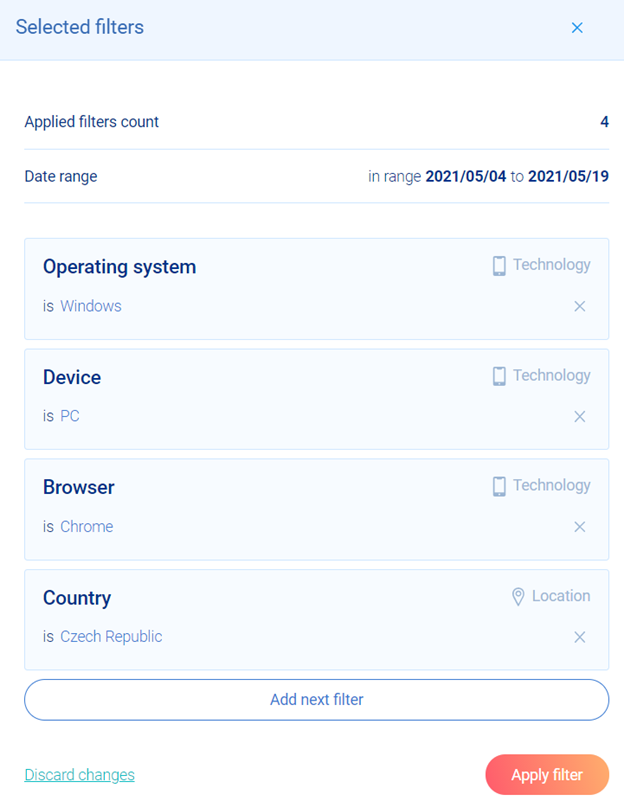 There are various filters for finding out who visits your websites and what they do. You can filter based on the visit date, duration, domains visited, number of pages per visit, total number of visits, city, country, IP address, and so much more.
All of this means that you'll have laser precision accuracy when determining your customer profiles. All it takes is for you to go into your session recordings and tweak a few filters. Moreover, you can do it super quickly too – 1 button and 1 filter, later and you can see only the relevant results.
You may be thinking –I can get all of this for free with Google Analytics. True, you can get some of these features, but this article will show you how Smartlook goes 1 step further.
Events for laser precision
You may be looking for recording sessions of a specific event, such as a visitor going to your landing page and entering their contact data.
For most other analytics products, this requires bothering your developers so that they can set up events. But not with Smartlook.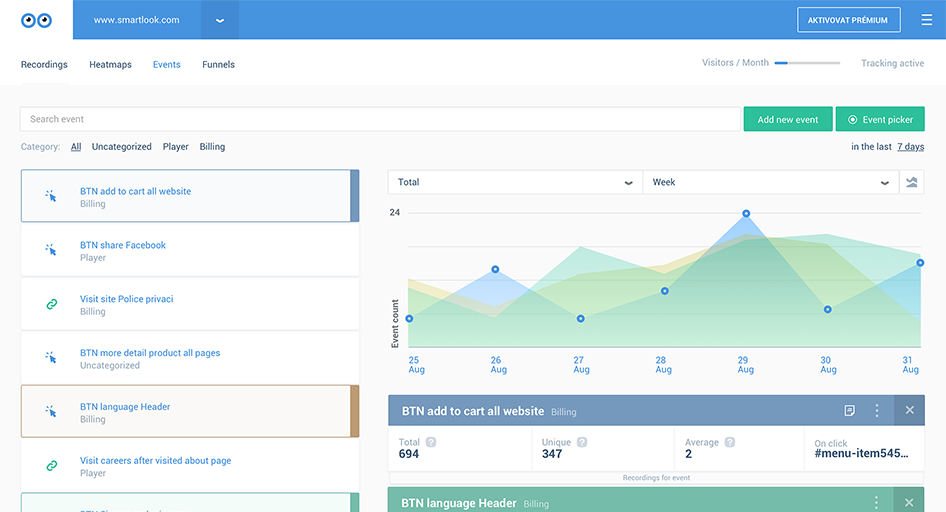 You can use events to set highly specific actions on your website and watch recordings and heatmaps of these specific actions. For example, visitors clicking on a call to action or customers who end up abandoning their shopping carts.
This will allow you to put the most important part of your website interactions on autopilot. Also, you can immediately see any changes that you've made to the key elements of your website.
Create fully-fledged funnels
You've probably used funnels in Google Analytics or similar apps before. It's a sequence of events that happens before a visitor becomes a customer and it's crucial for your conversions and sales.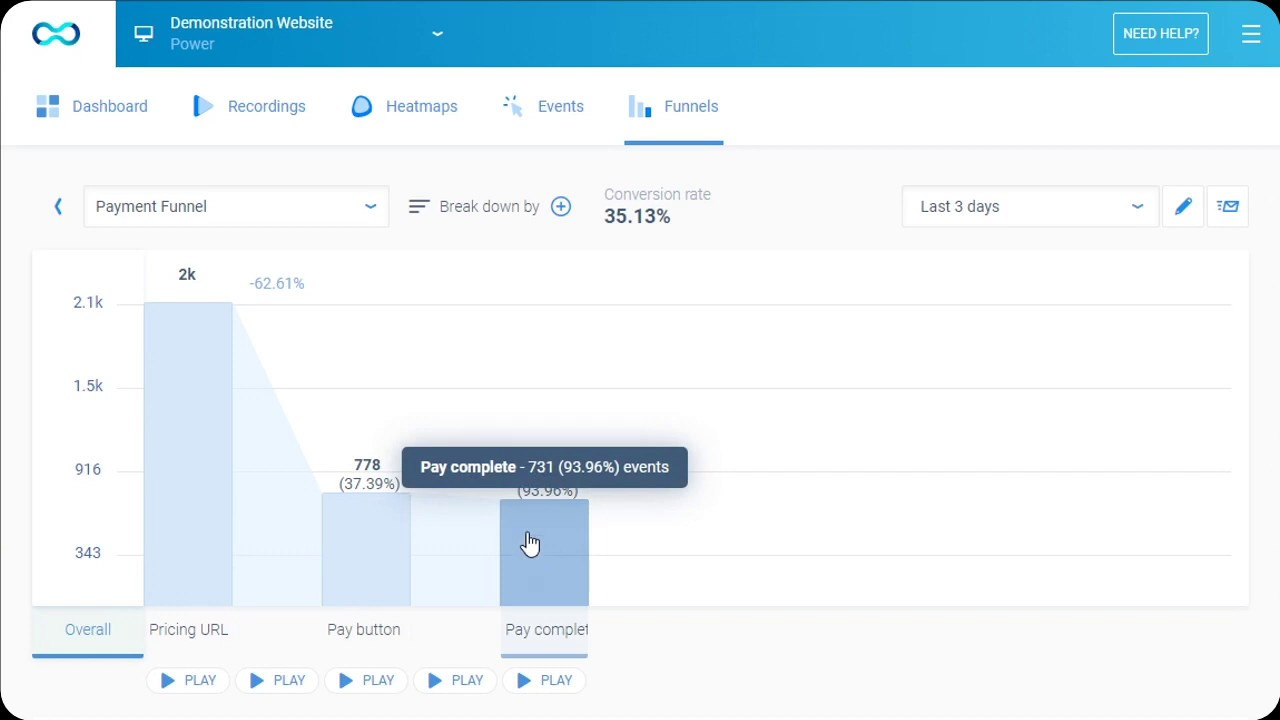 Smartlook allows you to create such funnels and oversee their performance in a dashboard. You'll immediately see your weakest links and notice which steps cause the highest bounce rates. You'll also see if some steps are getting skipped constantly, and as such, don't belong in your funnels at all.
You're also able to break down your funnels into specific steps and analyze a specific recording of a funnel step.
Always-on recording
You never know when your ideal customers will visit your website, especially if you work globally. For example, you may have lots of visitors at 2 AM, but who wants to stay up to look at analytics that late? Just use Smartlook and your customer support team can review the session recordings when they reach the office the next morning.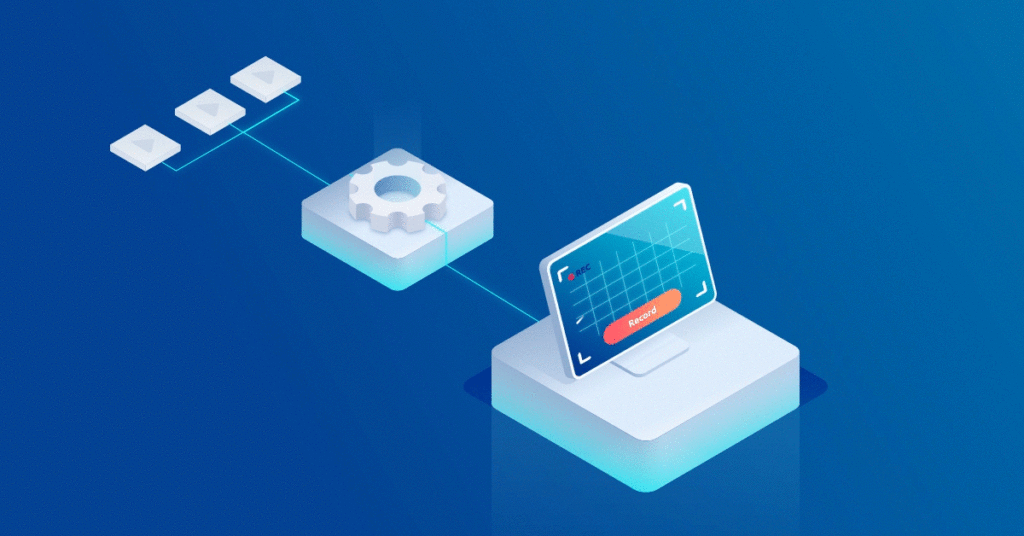 Always-on recording really means always. Say that the same user at 2 AM ran into a problem with your website and a critical feature just wouldn't run. Just open your session recording, find the exact feature that's causing problems and troubleshoot right there on the spot.
One of the most important things to note is that your customers' data is safely stored and no one can access it except yourself. Not even Smartlook, and certainly, not anyone else.
Recreate the customer journey
If you were ever intrigued about what happens before a customer hits "buy," you don't need to wonder anymore. Thanks to session recordings, you can identify individual website visitors and track their journey down the sales funnel. From the very first time they reach your website all the way to becoming a customer, you can see which pages influence their purchasing decisions the most.
This allows you to make conclusions such as which pages need to be improved and which are irrelevant for your sales funnels. Make changes and watch your visitors react to them in real time.
Retroactive analysis
If you're just switching from Google Analytics or some other app to Smartlook and wondering if you will be able to do anything with the app – worry not. While Smartlook may not be "on" the entire time your website has been up and running, your Google Analytics will have been turned on all this time.
This means that with Smartlook you can do retroactive analysis. You can use historical data (page views, session length, goals, clicks, and more) and turn them into actionable insights and heatmaps in Smartlook, immediately. That way, you can start making better conclusions immediately after signing up.
This also means that you can go into the past with your Smartlook data. Compare your performance now and 6 months ago – with just 1 click. For more details, check out this page.
Identify your customers
Have you ever wondered who that person was that spent a week browsing your website and all of a sudden made a huge purchase after all that thinking? You don't have to wonder any more.
Thanks to Smartlook's API, you can look up individual visitors on your website. Just look up their name or email and you'll be able to see exactly what they've done, and when. If you're reaching out with a cold call or email, this data is invaluable because you'll have a much more personalized approach and there's a higher chance of a conversion, too.
Heatmaps that will take you to the next level
If you're thinking that you can only see heatmaps from the moment you start using Smartlook…. We have good news. Thanks to your historical data, we can easily get heatmaps for the periods before you even started using Smartlook, so you can identify what your website visitors were doing.
Once you turn heatmaps on, you can pinpoint the data you need with a high degree of precision. Don't mix all of your visitors in 1 place – you can easily sort your new and returning visitors, so you don't get any mixed signals from the data you pull. Also, you can separate your mobile visitors from everyone else, which can make a key difference in your analytics.
Moreover, you don't have to open Smartlook every time you want to look at your heatmaps. Got an important marketing meeting coming up? No worries.
Just download your heatmaps so you can play them in front of your audience on the go. If you want the person on the other end to play it whenever they want to, just send them a link to a heatmap. This is super useful if you have clients and you want them to stay informed about what you do and the results you bring.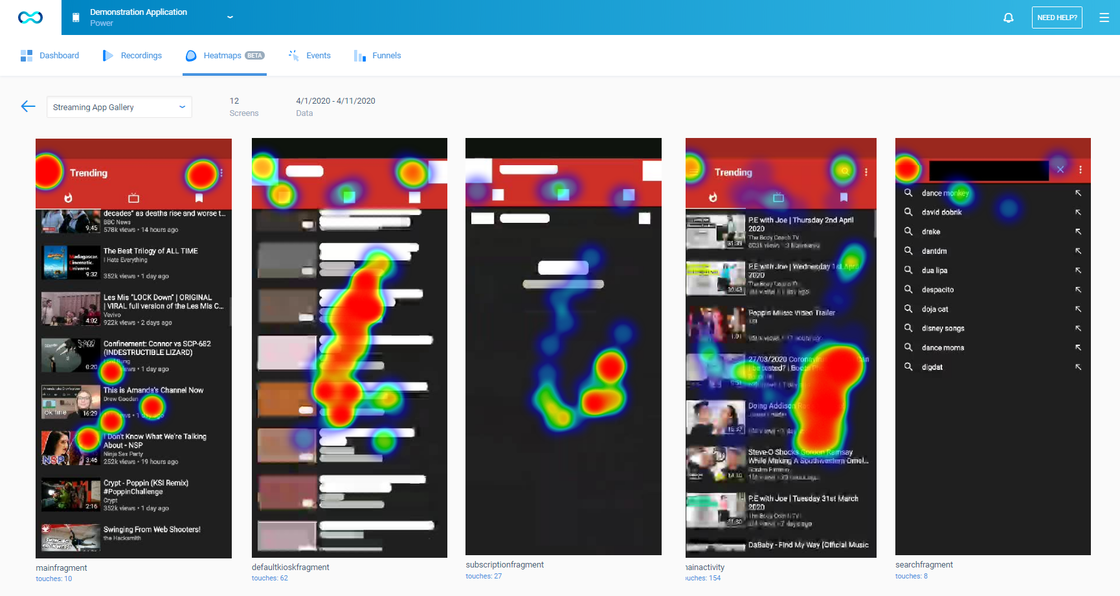 Mobile heatmaps
Last but not least, you want your heatmaps to give you carefully segmented data. This is why you can split them up by device so that you can see what your mobile users are doing compared to those on a desktop, for example. Each set of devices gets its own heatmaps.
Dashboards for only the most relevant data
You'll want to see your relevant analytics data in 1 place. Following the theme of "show the most important data only," you can choose how your Smartlook dashboard looks like. Include the full funnel or specific events, heatmaps or no heatmaps –you decide what you want to see so you can cut out the noise fully.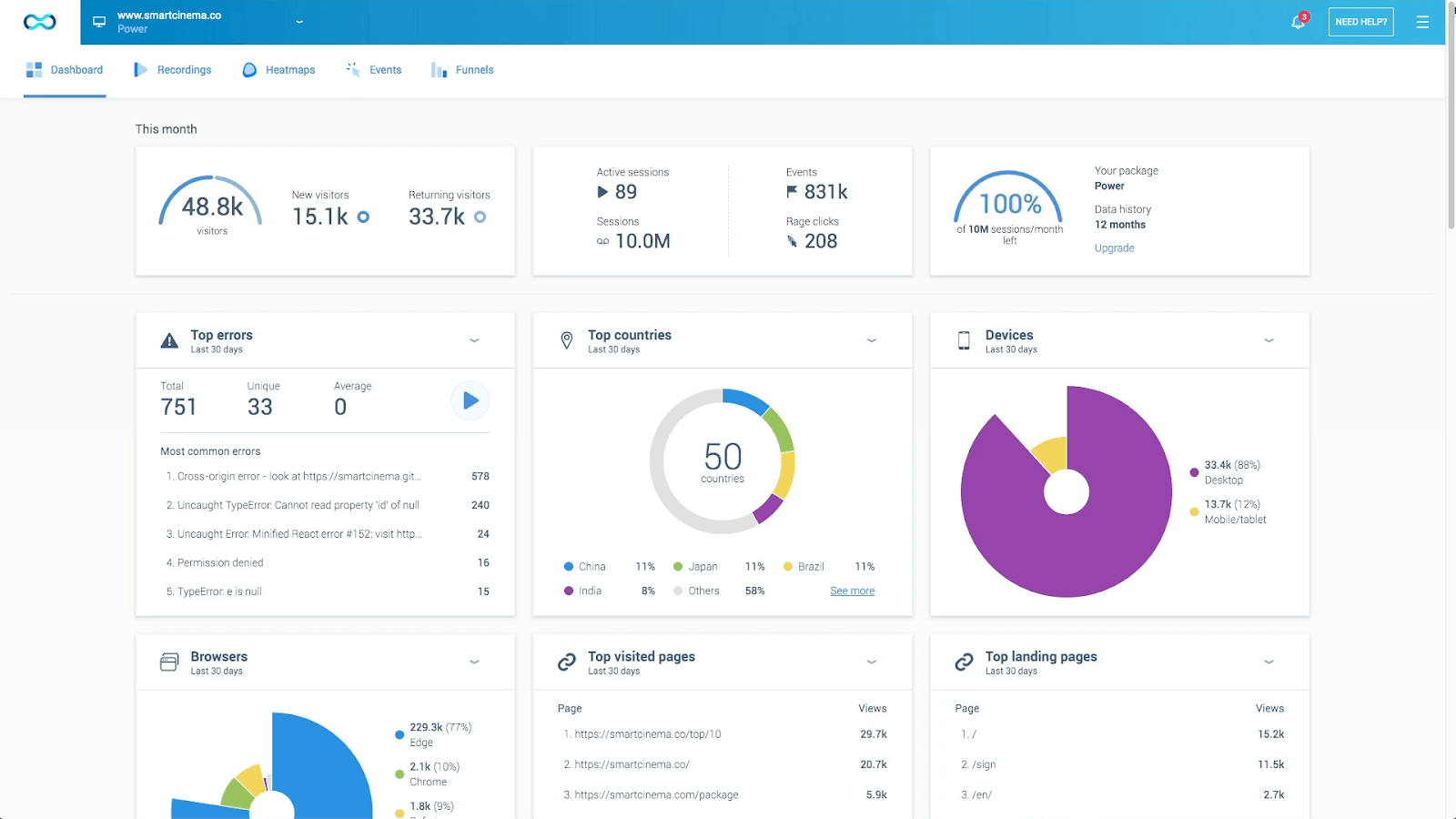 If you don't feel like logging into Smartlook to get your data, no worries. You can get weekly emails with your status updates so you can see your most important, most recent data at a glance.
Besides all the good stuff, your reports will contain data on things you don't really want to see. Rage clicks, Javascript errors, and other various website anomalies – you'll be able to spot them without digging deep into individual sessions and recordings. It will save you a lot of time in the long run.
Anomalies
If you've ever had something unusual happen on your website, you probably found out about it too late. For example:
A spike in users on a certain page
No visits at all on an important landing page
Conversions suddenly dropping
Or anything similar in nature
When this happens, Smartlook will let you know through the app that something unusual is happening and that you need to take a look at it as soon as possible. This way, you can avoid any crises early on, instead of noticing them too late and wasting precious time and money.
Integrations with all the right tools
Smartlook is a great app – of course. However, it's not a replacement for every app you use as a marketer or a business owner. Smartlook can seamlessly integrate with your most important business apps, such as Google Analytics, Google Tag Manager, WordPress, Intercom, Mixpanel, Zendesk, and many others.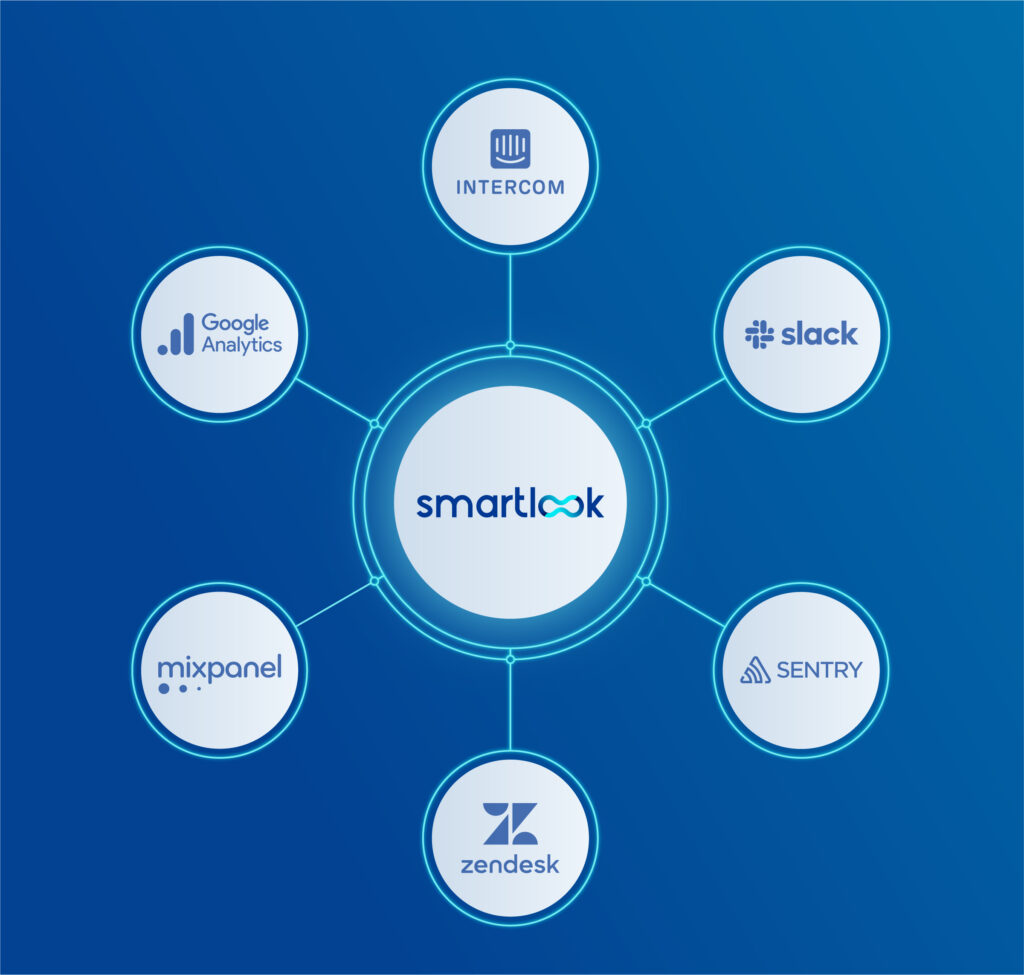 That way, you can look at all your relevant data in 1 place instead of in isolation. When you combine Smartlook with these apps, it will give you the relevant knowledge necessary to improve your website, user experience and offer.
Wrapping up
"Convenient" is the word that can best describe Smartlook. It does absolutely everything you want it to do and nothing that you don't want it to do. You'll only get the most relevant data needed to guide your business decisions, so you can drown out the (unhelpful) noise and focus fully on what really matters to you and your business.
Are you ready to get started? Sign up today for a free trial, to see what Smartlook can do for you and your business.