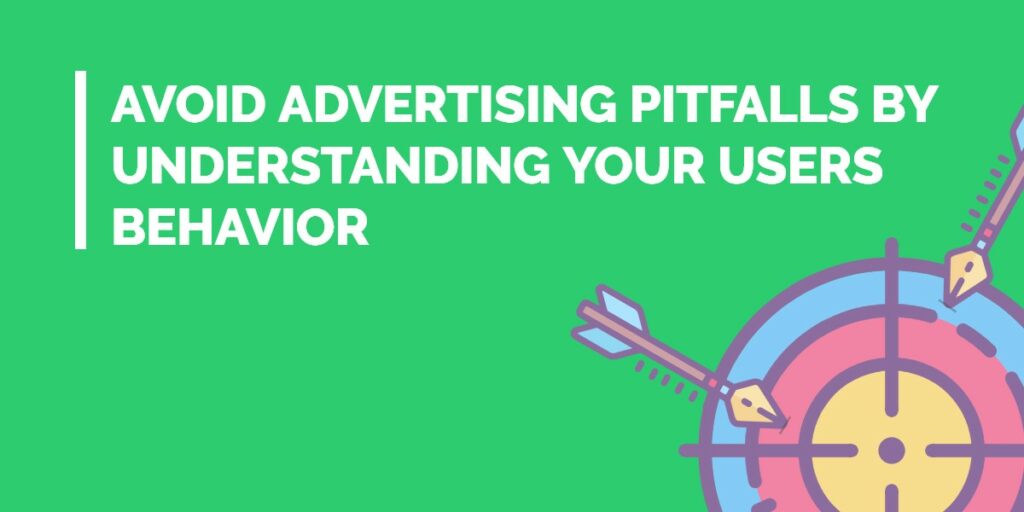 Online marketing is one of the most powerful channel for advertising these days. There is no doubt about it.
Business owners and marketers are investing significant effort into reaching and engaging with the ever growing pool of people using the internet to research, consume services and shopping online.
Through time there has been a significant development in the way how digital marketers and/or campaign manager implement, monitor and test their efforts.
And the biggest shift happened in the evaluation part.
Earlier, one of the biggest perks of doing digital marketing was actually an ability to see and show where the allocated budget went and what was achieved with it. Directly to the final impression, click and conversion.
Today, we're way beyond measuring our core metrics, such as clicks, impressions, followers, likes and so on.
Truthfully, all marketers and business should at this point be well beyond these core measurements.
And if you're not sure how or where to start – well you're in the right place.
In this article, we'll go through core analytics & user engagement concepts and present you how to use them to avoid the common advertising campaign pitfalls.
A quick note. Although the principles and concepts elaborated here apply to any website focusing on lead gen or conversions – I'll proceed focusing particularly on e-shops, as a prime example of transactional websites.
Let's start with some statistics…
In the e-commerce arena, the boost of digital marketing is rooted in the high demand and ever expanding market. The number of expected digital buyers is to reach almost 2 billion in 2019.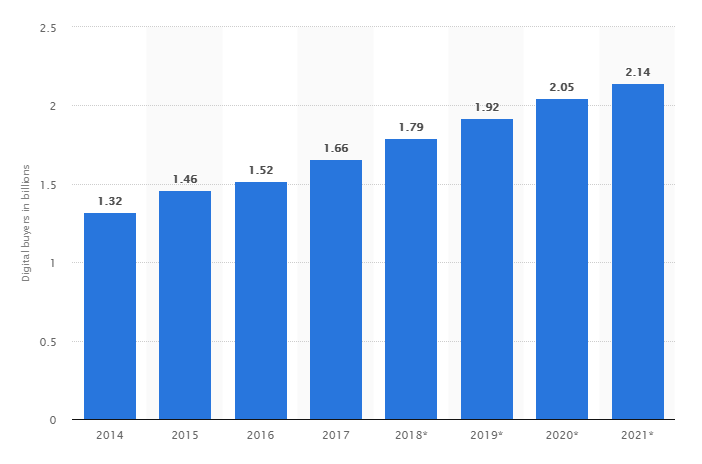 Image Source: Statista
Per Statista, their purchases will make up almost 14% of total global retail sales.
Also, they expect both numbers to grow in the coming years with no sign of slowing down.
Everyone is adapting to these trends as much as they can. Retailers, for example, started opening their own e-shops and creating special offers for online shoppers.
And following the same trend, the number of online stores has skyrocketed. Actually, there's no way to tell how many e-shops are there.
Digitalcommerce360.com attempted to answer that question in 2014 and came to number "of online stores to 12-24 million" based on the Alexa analysis. Or slightly more than 650,000 revenue generating (>$1k annually) online stores worldwide based on Powel law calculation.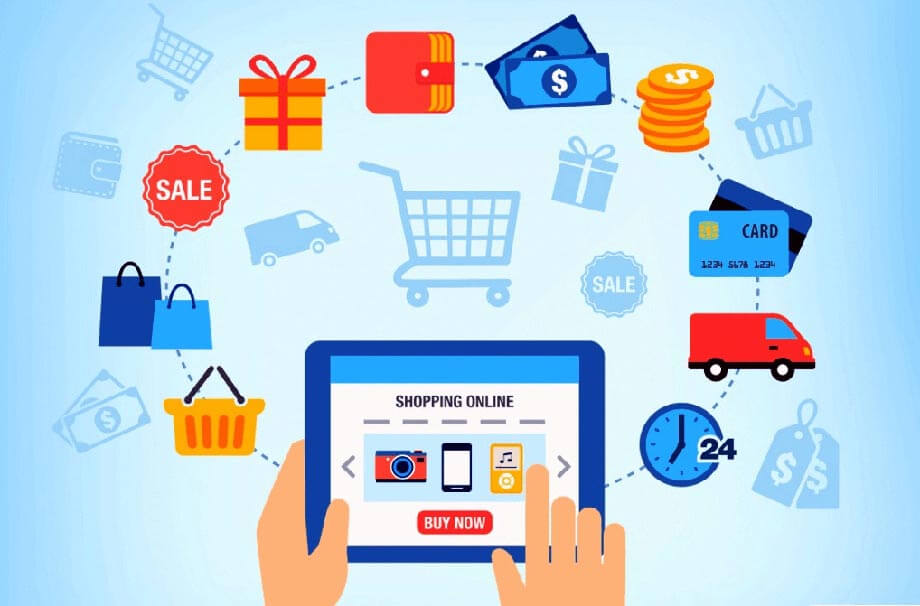 Image Source: Medium/Dreamcat Team
And that's a lot of e-shops.
But, taking into consideration that the entry into the e-commerce is low (now anyone can build an eshop and deliver goods via dropshipping) and 2014 was 5 years ago, that number is just crazy on its own.
And, what is obvious, the number of completely new products, brands being sold doesn't follow the same growth trend and expansion.
Many e-shops just sell the same goods as their competitors.
Which makes marketing a critical differentiator between them.
Marketing as a differentiator
And that's why online advertising is so critical for e-commerce today.
E-shops, brands and manufacturers are trying to win over their customers and online platforms (such are: Google, Facebook, Bing) are creating a plethora of new advertising opportunities for that.
These are top providers in digital advertising in the past year: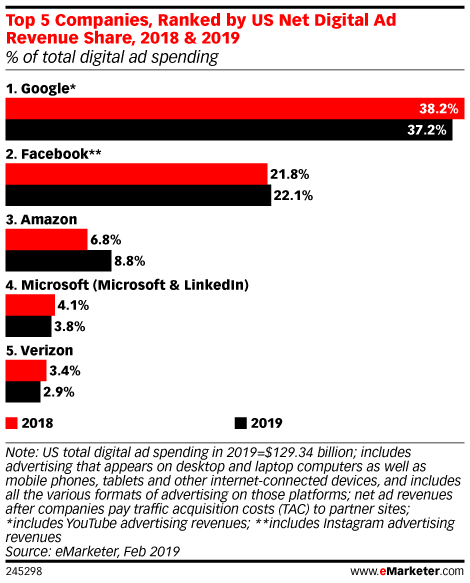 Assuming you're an e-shop owner (and maybe you are) you'd found yourselves in a pretty competitive market where advertising is at the core of marketing and growth strategy.
Eventually you" have to engage either on Google or Facebook to reach new customers and grow your business.
And to verify which channel works the best for you, you'll have to engage into digital marketing & advertising analytics.
It's a common pitfall to ignore analytics and not evaluate advertising efforts.
In fact, analytics and ad performance evaluations saves a lot of time and money.
It's basic. You can't run an online campaign for free. And in order to reach your customers online, it is likely you'll have to invest in advertising.
Doing it in a smart and efficient way it will pay off with not only savings but also increased revenue.
Otherwise if you ignore signs and warnings, you'll likely find yourself investing in channels and areas that do not provide any return.
In principle, it's not difficult to start an online campaign – all you need to do is to set up a few accounts, decide on the budget and, in one way or another, provide information about products.
However, that is just a small introductory part of the whole online advertising process.
To really be successful in advertising and online marketing it is crucial to analyze the performance of advertising campaigns and understand your visitors.
What customers' activity should you track?
You should track as much as you can, as long as it makes sense to track.
Your goals and general strategic objectives should drive evaluation and monitoring efforts.
Some of the most important metrics you should pay close attention to are:
– Impressions of the add and clicks of the ad
– Conversions
– Ads performance depending on the device, location or time of the day
– Products viewed on the landing page
– Purchases made
– Products and keywords searched on the landing page
– Time of a customer's visit to the landing page
– A customer's behavior on the landing page (the path they take)
– The number of drop-offs at each stage
– The number of active users and real-time users at different moments of the day/week/month
– Benchmarking (comparison with competitors)
Tracking these core metrics will enable you to understand how users arrived to your e-shop, what did they look at, how much time they've spent on site, what made them to purchase and why they churned.
The list is not exhaustive. But even data provided within these are exhaustive.
Many other statistics are available in different analytics tools, some of which are highly specific.
All of them can provide valuable information if interpreted correctly.
Every retailer should decide which are the most optimal ones for their business.
What information can you get from tracking users' activity?
– You can see which products are the most popular in your store – this should help you to plan the campaign's budget properly.
– You can confront your expenses with the number of conversions to see which of the campaigns and ads are the most effective.
– You can observe at what stage of the process of making a purchase you lose customers – this can give you an idea about potential flaws of the landing page, the purchase process or product itself. In consequence, you will be able to eliminate the weaknesses, optimize the content and improve the customer experience.
– You can get to know the profile of each customer that visited your site and prepare (with the help of algorithms) personalized product recommendations.
– You can find out the current trends and customers' preferences and design a business strategy accordingly.
These are some answers and insights that can help you evade digital marketing advertising pitfalls.
It is definitely not a complete list.
To get to the answers though, you must get comfortable using digital marketing analytics tools.
These will help you answer them, and will help you understand where are you succeeding and where you are failing.
It is what they are built for.
What are the best tools to track the performance of the ads?
There is one player on the market in the crux of digital marketing analytics – Google Analytics.
It's an online analytics tool released in 2005 by Google and from then on it has been the most popular one worldwide.
No wonder people love it – it's free and provides a broad range of analytical instruments suitable not only for Google Ads but for any online business in general.
Google Analytics covers all stages of online advertisement – from the ad itself to all the activities on a landing page.
Although comprehensive, Google Analytics only delivers quantitative perspective with a limited focus on funnels and events.
Tools like Smartlook, offer advanced features for complete user engagement analysis.
Features like user session replay, heatmaps, automated events tracking and funnel analytics – enable e-shop owners to visualize the user engagement through the e-shop.
With Smartlook, you can not only track the events on the landing page but also record customers' visits and generate heatmaps to get a complete picture of users' behavior.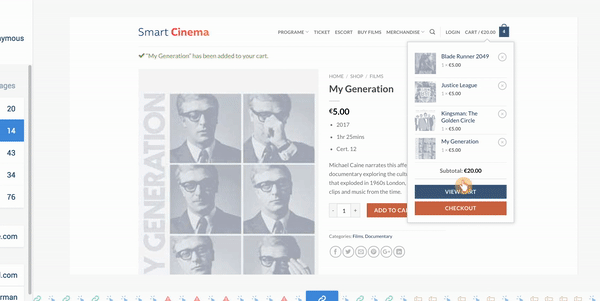 Conclusion
Internet-based businesses face tough competition, especially e-shops.
One way to differentiate and stand out is to invest in online advertising to attract new customers and business.
It is for that reason that online advertising becomes critical for businesses. Thriving on data, online advertising is inadvertently connected to marketing analytics.
People often don't even realize how much information they can discover by monitoring and tracking customers' actions and how useful it can be for their businesses.
Data analytics provide meaningful insights and should be treated as one of the fundamental aspects of the decision-making process.
If interpreted correctly, it can be a driving power of traffic in the store and an increase in the revenue.
__
This blog post has been written by a guest contributor. If you'd like to contribute to share your amazing insights with us, please reach out to us via Social Media or the contact form.