FullStory is one of the most advanced session replay tools on the market, but its limited options for event tracking make many users feel that its pricing is too high compared to other tools.
A few limitations of FullStory include:
You can't track custom events on websites or native mobile apps with FullStory alone. If you want to track events other than standard clicks, pageviews, or text inputs (or taps, scrolls, screen elements, and user engagement statistics on mobile apps), you need to import them from another tool through FullStory's API.
Its quantitative analysis tools are weak. While you can get good insight into individual user journeys with session replay, FullStory's event metrics suite offers very few options for analyzing aggregate data. Many users say they have to supplement FullStory with other product analytics tools.
Users report that it can be hard to track a single user's journey across multiple sessions.
Additionally, many users report that FullStory's pricing model forces them to choose a plan that's smaller than what they actually need, causing them to miss out on recording 100% of their users.
Fortunately, there are many FullStory alternatives — including our own tool, Smartlook — that can provide the same (or better) insights into user behavior at a lower price point.
In this post, we'll discuss the problems users experience with FullStory's pricing model, and explore 11 FullStory alternatives, starting with our session recording product, Smartlook.
Table of Contents
Smartlook is a website and mobile app analytics tool that combines the power of heatmaps, session recording, event tracking, and funnel analysis to help you improve conversion rates, find and fix bugs faster, and boost customer retention. Create a free account and start recording sessions today.
FullStory Pricing Issues That Reviewers Report
We explored reviews of FullStory on sites like TrustRadius and G2 and noticed many reviewers commenting on the pricing structure. Like many other web analytics tools that provide user experience insights, FullStory's tiers are separated by the number of user sessions collected each month. To capture all of your visitors' sessions in a month, it's best to purchase the tier that will give you about a 10 to 20% buffer over your average monthly traffic — this allows for traffic surges.
But many users report having to manually sample their website traffic because they couldn't afford a plan that they could leave turned on all the time. FullStory doesn't have a built-in mechanism to control or schedule this sampling, so some users mention only "turning it on" during peak times. And others complain that they consistently miss out on collecting data the last few days of each month after they've hit their cap.
Capturing 100% of your visitor recordings is crucial to getting the full value out of a session recording platform.
While you can get a good sense of the typical user experience by watching a sampling of user sessions, the most value comes from being able to search all of your sessions for specific characteristics — events, device types, IP address locations, user type, and many more, often in combination.
Plus, you'll need to have access to all user sessions if your support team is using session recordings to triage bug reports or provide live customer support.
So how much does it cost?
FullStory's pricing is geared toward enterprise users, and it doesn't provide transparent pricing on its website.
FullStory offers a Free Forever plan that captures up to 1,000 sessions per month, which can help new websites get started with behavioral analytics. After that, first-time customers can apply to be considered for the Startup Scholarship Program, which offers discounted pricing for their first year. Reviewers say this level costs $160 per month, but paid annually (for nearly $2,000 a year). It's unclear how many sessions per month come with this program, but another reviewer reported paying nearly $250 per month for 75,000 sessions per month.
When the startup program ends, the base price jumps to between $250/month and $800/month, depending on the number of user sessions you need, and the price increases beyond that if you want data retention for more than 30 days. One reviewer said their FullStory subscription was costing them as much as their Amazon Web Services plan.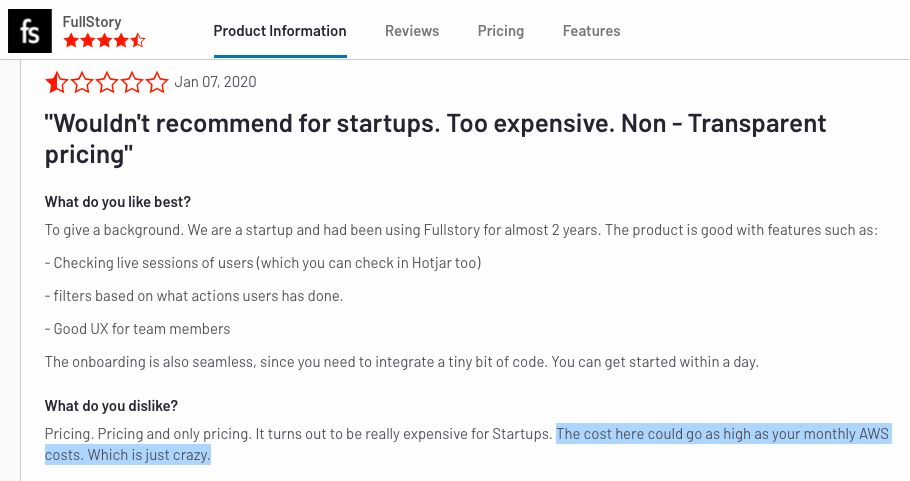 Smartlook is a qualitative analytics solution for websites and mobile apps, helping over 2800+ paying organizations of all sizes and industries answer the "why" behind their users' actions.
With always-on recordings, Smartlook captures every single user session on your website or mobile app.
The data collected from these visitor recordings can be used to create heatmaps, define events, and do in-depth funnel analysis. You can easily find the recordings that interest you with more than 30 filters including device type, IP address location, length of session, etc., and the event breakdowns allow you to see how people engage with specific parts of your website over time.
All of these tools help you analyze user behavior to uncover the reasons why people are churning, and fix them.
Startup-friendly pricing starts at a quarter of FullStory's lowest tier
We believe in empowering businesses of all sizes to understand how their users experience their product, which is why we have startup-friendly pricing tiers and make our pricing transparent.
At $55/month, our Pro plan tier is less than a quarter of the price of FullStory's Startup tier.
Additionally, Smartlook offers a 30-day free trial that gives you access to all premium features, with support for web and mobile applications.
(Note that FullStory doesn't let you use its mobile app analytics during the free trial.)
Here are four features users love about Smartlook.
#1: You only need to watch a few sessions to find actionable insights, and Smartlook tells you exactly which sessions to watch.
One of the biggest barriers to finding actionable insights with most session recording tools is that it's too time-consuming to watch many recordings. How do you know which ones to prioritize? Are you going to sit through 50 boring sessions before you find one where a user encounters a friction point?
Fortunately, Smartlook offers two features that make it easy to find the recordings that contain moments of interest:
Events: When you define an event (for example, "add to cart"), Smartlook instantly identifies every instance of that event across your entire site — going back as far as your data retention plan goes. Now, you could choose to watch all of the sessions containing this event if you want, but it's likely that this would still represent too many videos. In most cases, you'll want to narrow it down further by viewing the breakdown by device type, IP address location, new or returning user, referral source, etc. When you have identified the sessions you want to watch, Smartlook will automatically take you to the moment five seconds before the user performs the event in question — making the most efficient use of your time. Of course, if you need to see more context about the event, you can also watch the entire user session from the moment they landed on your site to the moment they left.
Funnels: In Smartlook, funnels are made up of at least two events. The funnel feature will show you the conversion rate between each of the events you add to the funnel, but, importantly, you can also watch the recordings of only the users who drop out at a specific step. That means, with a few clicks, you can often narrow hundreds of thousands of sessions down to a few that are guaranteed to show you a point of friction on your website that could be costing you conversions.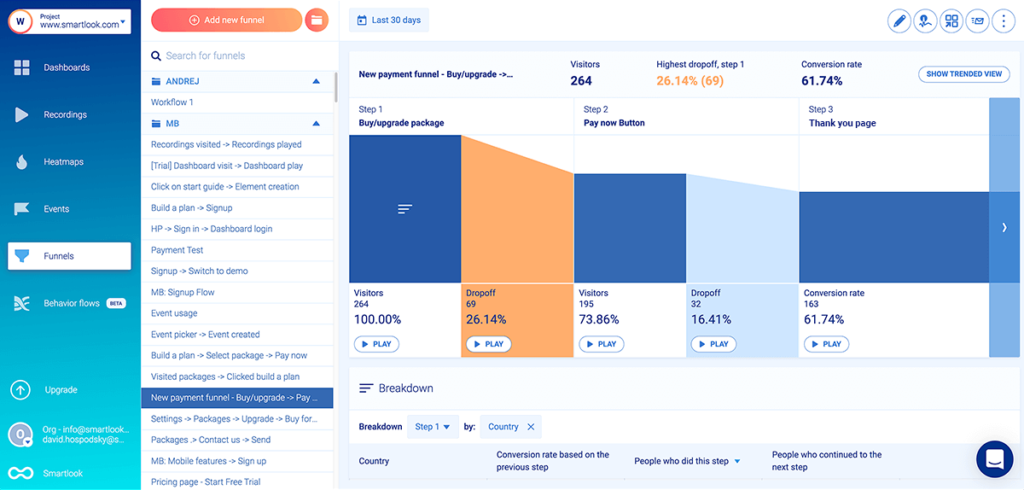 In the screenshot above, you can see a funnel that represents the steps from choosing to upgrade a subscription and getting to the purchase confirmation page.
While you wouldn't want to watch all 264 recordings of visitors who added the upgrade to their cart, the 32 users who dropped off between the "Pay Now" button and the "Thank You" page may be worth watching, since those users probably experienced some kind of technical error. And if you break down those 32 sessions by IP address location or device type, you can narrow that number down even further.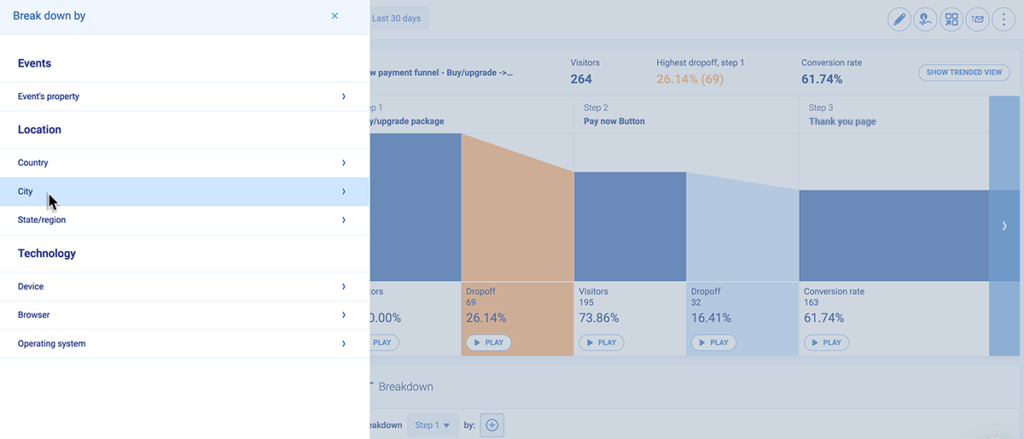 #2: Triage support tickets faster with session recordings
Many Smartlook customers give their support teams access to Smartlook so they can review session recordings for customers who report a bug.
Using the Smartlook API, you can identify users and look up customer's replays by their name or email. When customers report bugs, the support teams can look up that customer's session by their name or email and rewatch the session as the user experienced it to understand whether there was a real bug, or if it's a case of user error.
If the support team finds a real bug, they can send the session recording to developers. The session recording includes details about the device, operating system, and browser the customer was using, the location of their IP address, and what specific actions may have led up to the bug appearing. This helps developers reproduce the bug quickly and begin fixing it right away.
Smartlook offers tools to limit personal data collected through session replay. You can set up masks on any user input forms to exclude sensitive information so that it never gets sent to Smartlook's servers.
#3: Retroactive event and funnel creation means no waiting for data collection.
As soon as you install the Smarltook snippet, it starts recording user sessions and capturing every user interaction with your site. When you're ready to analyze your visitors' behaviors, you'll be able to get insights immediately from the recordings Smartlook has already collected.
With other analytics tools (such as Google Analytics or Amplitude), you have to first set up individual events for the tool to collect, and then wait for visitors to perform those events.
With Smartlook, you can define events, create funnels, and generate heatmaps retroactively, going as far back as your data retention plan allows.
#4: Support for websites and native mobile apps in one tool.
Smartlook's mobile app analytics tool offers all the same features as its website analytics suite, and the platform allows you to track user behavior across a variety of programming frameworks. This feature enables teams building cross-platform applications with tools like Flutter to use one product analytics tool to analyze user behavior on all platforms.
Smartlook offers a few other unique features:
Cross-platform Journey: This new feature allows you to track a single user journey across native mobile apps and desktop sites. You'll see a playlist of all of the session recordings from a single user, arranged chronologically, regardless of what platform they were interacting with. This feature is especially helpful for ecommerce sites where users search for a product on a native mobile app, but complete the purchase on desktop (or vice versa).
Behavior Flows: Get automated insights about the paths users take through your website before reaching important pages like your pricing and sign-up pages. This is another new feature and it starts providing insights the minute you install Smartlook, without any additional steps.
If you're looking for a web analytics tool that goes toe-to-toe on every major feature that FullStory offers, Smartlook is a great option. Smartlook has a transparent pricing structure and provides more value for your money.
Create a free account and see how Smartlook compares for yourself. You'll have access to all of our premium features for the first 30 days, and then you'll be automatically switched to our free forever plan.
10 other FullStory Alternatives to consider
Now, we'll look at ten other web analytics tools that provide some of the same features as FullStory.

Amplitude is a product analytics tool with a focus on event tracking. It collects data about user interactions with a website or mobile app, but it doesn't provide session replay or funnel analysis like FullStory does. It also requires a considerable amount of manual configuration before it starts tracking events.
Amplitude has a free Starter plan that includes its core analytics features, unlimited data retention, unlimited user seats, and event tracking for up to 10 million actions per month. To access their predictive analytics, you have to upgrade to the Growth plan, and they don't provide pricing details on their website. Like FullStory, reviews mention that Amplitude is very expensive when you need to upgrade.
Amplitude is a good tool for product managers looking to optimize the digital experience across multiple devices, but who don't need to watch recordings of users.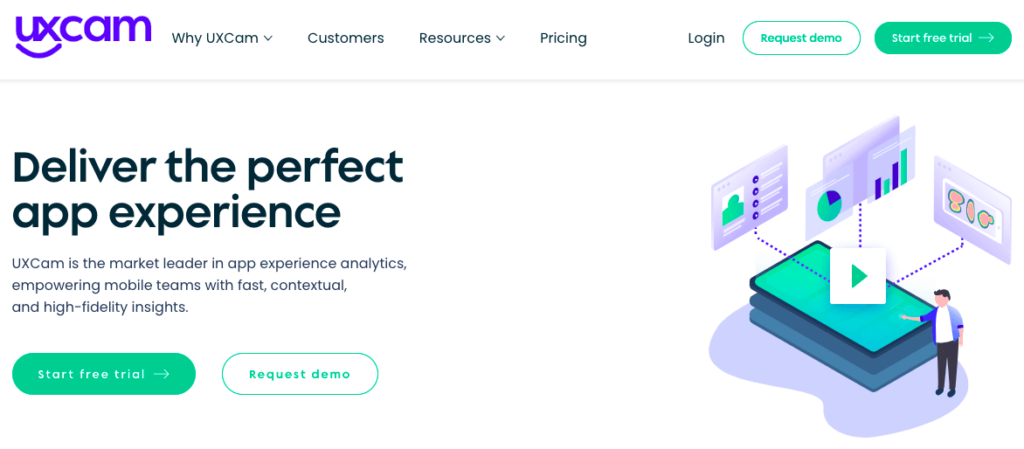 UXCam is a comprehensive user experience analytics platform for mobile apps that offers session replays, heatmaps, funnel analytics, and event analytics.
Pricing is based on sessions per month, and the free plan provides 5,000 monthly sessions, 1 user license, and access to email support. You have to contact their sales team to get pricing for the premium product.
UXCam is a great tool for helping SaaS companies identify usability problems in mobile apps, track performance metrics, and make informed design choices, but it doesn't support analytics for websites or web applications, so companies that need to track user behavior across a variety of frameworks will need to use multiple tools.

Mixpanel is an event analytics and funnel analysis tool. It doesn't offer session recordings or heatmaps, but it has many features to help users understand which of their users aren't converting and why, including messaging and testing tools. Its event analytics tools can connect directly to Smartlook's session recording tools through one of our premium integrations.
Once events are installed, Mixpanel is relatively easy-to-use, but it doesn't offer any options for creating events without coding (which FullStory and Smartlook both offer). Each event has to be installed by a software engineer before Mixpanel will collect data on it.
Mixpanel's pricing is based on monthly tracked users, and they recommend getting a plan big enough to cover the sum of your total monthly active users plus your total monthly anonymous visitors.
According to its plan builder, it would cost $190/month to track the events of 10,000 monthly users. It does offer a free version for up to 100K monthly tracked users, but the features you get access to are limited.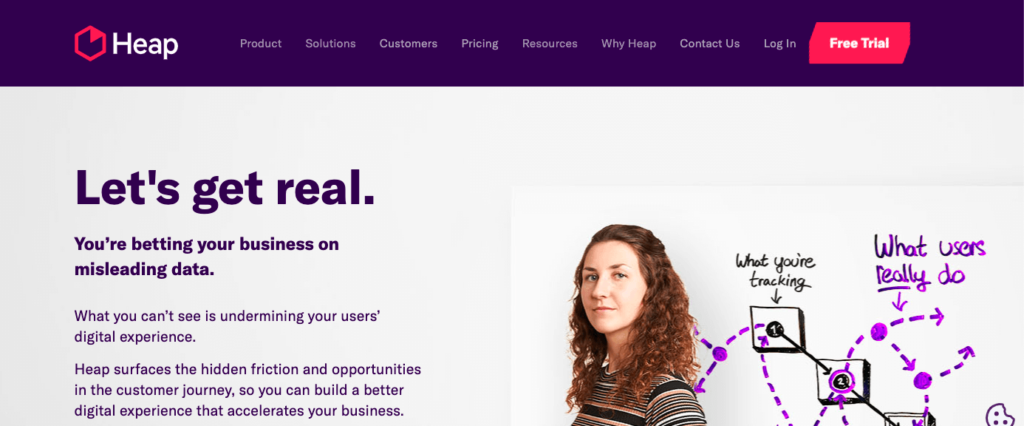 Heap lets customers track everything users do on their website, every click, swipe, tap, pageview, and fill — all with just a single JavaScript snippet. Heap allows for retroactive event tracking, but Heap does not provide session replay or heatmapping, so customers interested in those features would have to use two tools to achieve the same functionality as Smartlook or FullStory.
The Heap platform is intended for product, marketing, and customer success teams for SaaS projects. It offers integrations with tools Shopify, Salesforce, and marketing automation tools, to provide insight into the entire customer journey.
Heap's free version provides event tracking with auto capture for up to 10,000 sessions per month for one project, but if you outgrow the free plan, the Growth plan starts at $3,600 per year.

Hotjar is a behavior analytics tool that focuses on understanding the customer experience through heatmaps, session recordings, and surveys to collect real-time customer feedback. Hotjar offers a HubSpot integration to automatically add survey responses to the contact timeline in the HubSpot CRM.
However, Hotjar disabled its funnel analysis features in December 2020, and Hotjar doesn't provide event tracking.
Hotjar's pricing is based on the number of daily session recordings, and it only captures recordings for a sample of your visitors. This makes Hotjar unusable for support teams and developers who want to review a specific user's session to triage bugs.
Hotjar's free version provides up to 35 session recordings per day. The Plus tier, starting at $39/month, tracks up to 100 daily sessions.

ContentSquare is a robust digital experience analytics platform providing heatmaps, session replay, and automated insights about web and mobile applications.
Instead of events and funnels, ContentSquare offers customer journey analytics, which shows users how visitors progress through their site, page by page. Using artificial intelligence, ContentSquare can pinpoint potential errors on your website by detecting issues such as looping behaviors and in-page issues such as unresponsive call-to-actions and slow loading pages.
ContentSquare's pricing is based on the monthly number of pageviews on your site or sessions in your mobile app. It doesn't offer a free version, and you have to contact sales to get a custom quote.

Mouseflow is a conversion rate optimization tool that offers heatmaps, session recordings, conversion funnels, and form analytics. Users get up to a year of data storage (on the Business Plan) for retroactive analysis, but the only option for filtering session recordings to find the most relevant ones is a feature called Friction Score.
Friction Score automatically ranks recordings according to user actions to show you sessions that may content frustrated users.
Mouseflow's pricing is based on sessions per month, and the free version records up to 500 sessions per month. The Starter Plan is $24 per month when paid annually, and tracks up to 5,000 sessions per month.

VWO is better known as an A/B testing tool, but they also offer funnels, session recordings, and heatmaps in their VWO Insights product. Two features it offers that FullStory does not are on-page surveys and form analytics.
VWO's session recordings track actual mouse movements as visitors move across pages on your website. You can filter recordings by several different user behaviors and device types, as well as where they dropped off in a particular funnel.
However, VWO doesn't offer always-on recordings. Pricing is based on both the number of funnels you're tracking and the number of sessions you want to record each month, but the limits are very low, meaning you'll only be looking at a sampling of user sessions.
VWO offers a full-featured free trial for 30 days, but no free forever version. You have to contact sales to find out their pricing.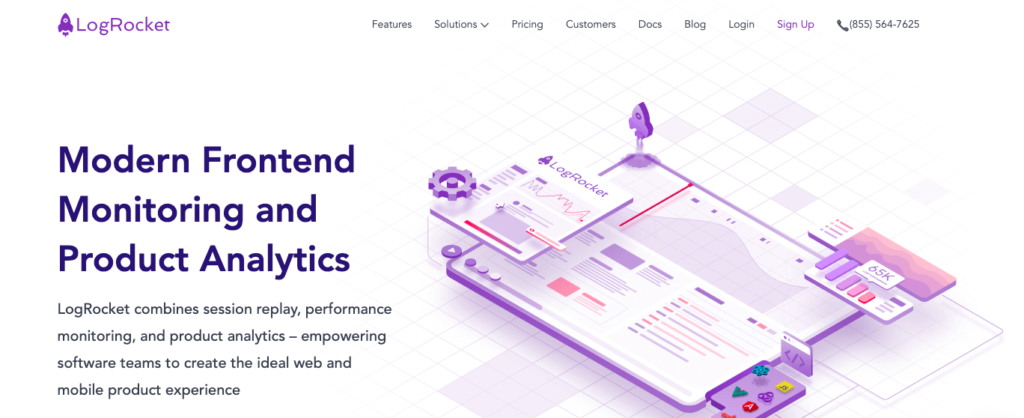 LogRocket combines session replay, performance monitoring, and custom event tracking tools to help users perfect their product experience. Like FullStory, its session replays are a reproduction of the user experience, rather than an actual video. Users can see additional details from each session including the DOM state, network logs, Javascript errors, and performance data to help with debugging.
The free version of LogRocket includes 1,000 sessions per month and 1-month of data retention. The next tier starts at $99/month for 10,000 monthly sessions. However, to get access to funnels, you have to upgrade to the Professional level, and you have to contact their sales team for pricing.

Pendo is a web and mobile analytics tool focused primarily on helping SaaS product teams improve their customer retention rate. Pendo codelessly tracks all customer usage as soon as it's installed, and you don't have to set up any tags. You can view retention graphs and conversion funnels, but the filtering options are limited.
Pendo doesn't offer session recordings or heatmaps, so it's not a direct competitor to FullStory, but it could help some teams achieve some of the same end goals in terms of improving the user experience on their product.
Pendo's free version allows tracking for up to 1,000 monthly active users. It doesn't provide pricing for any of its other tiers.
Start using Smartlook and never miss another visitor recording
Smartlook's always-on visitor recordings show you what every single visitor does on your website or app. Its event tracking and funnels help you find only the recordings you need to watch, while also providing quantitative metrics about your product.
Schedule a demo or start our free 30-day trial to start seeing your website through the eyes of your visitors.