38% of all Instagram users (source: BroandbandSearch) check their mobile app at least once daily.
That's a ton of engagement for a single app with billions of users.
Capturing attention with your mobile app is hard enough, let alone keeping those users around and coming back for more.
So, how do you get as much screen-time as Instagram?
Here are a few ways you can increase mobile app engagement today.
Create a Knowledge Base With Helpful Content
When users first land in your app, is it easy to use?
If not, how are you delivering content to them to improve user experience?
If someone has a poor experience on your mobile app, you can bet they won't return.
To combat this, you need to provide helpful content that teaches them how to best use your mobile application, how to troubleshoot, and where to find the answers they need.
The absolute best way to accomplish this is via knowledge base.
What's that?
Per Freshdesk, a knowledge base is defined as:
"A knowledge base software helps you document tutorials, DIY guides, and answers to frequently asked questions in one place. A well-indexed Knowledge Base empowers customers to discover answers and fix easy problems by themselves allowing your business to focus on the tough problems."
And it looks like this: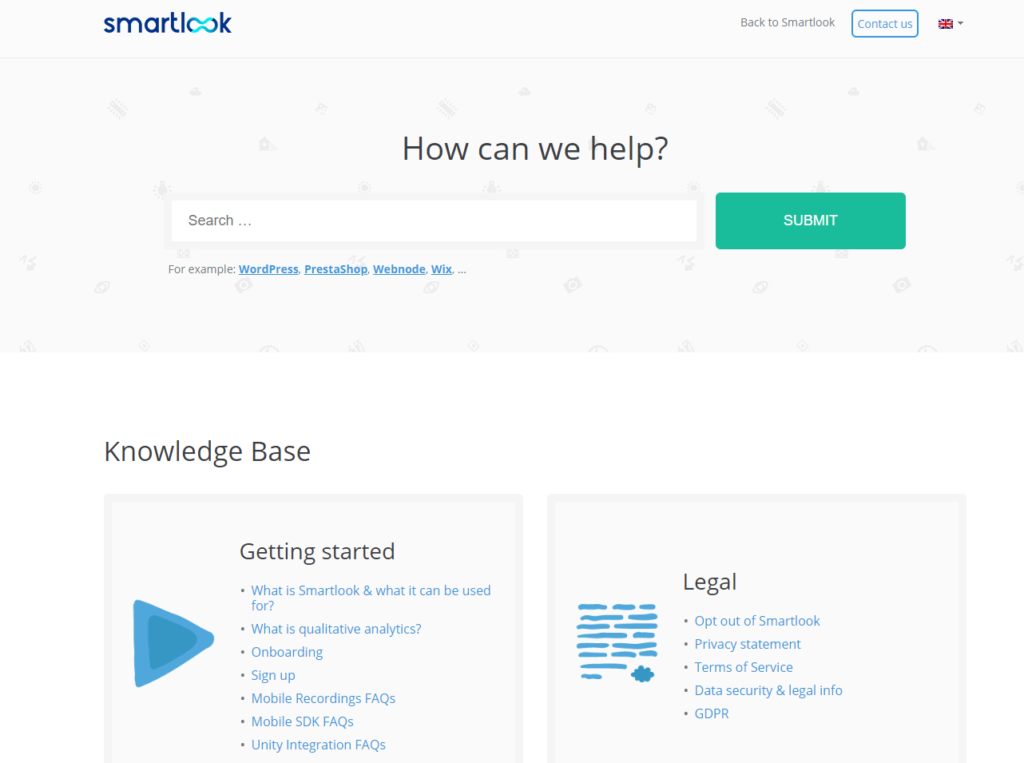 Knowledge bases are essentially support sections of your website complete with tutorial-based content that can help your users.
Knowledge bases are often searchable, allowing users to find the specific info they need ASAP.
Not sure how to build a knowledge base? Don't fret!
First, make sure that your website has easy means for adding a knowledge base. If you have a site on WordPress, Wix, Squarespace, or other top website building tools, make sure to check if they integrate with other knowledge base apps like Freshdesk or Zendesk.
Luckily, many of these website builders can build out customized support sections on your site.
In fact, there are many ways to incorporate a knowledge base on your website.
Another method to provide a knowledge base (or to supplement your knowledge base) is to start a blog featuring useful guides and how-to information for users to search and find answers to their questions online.
Get strategic with your knowledge base by adding a short survey at the end of your blog post or article that asks for feedback like the one below: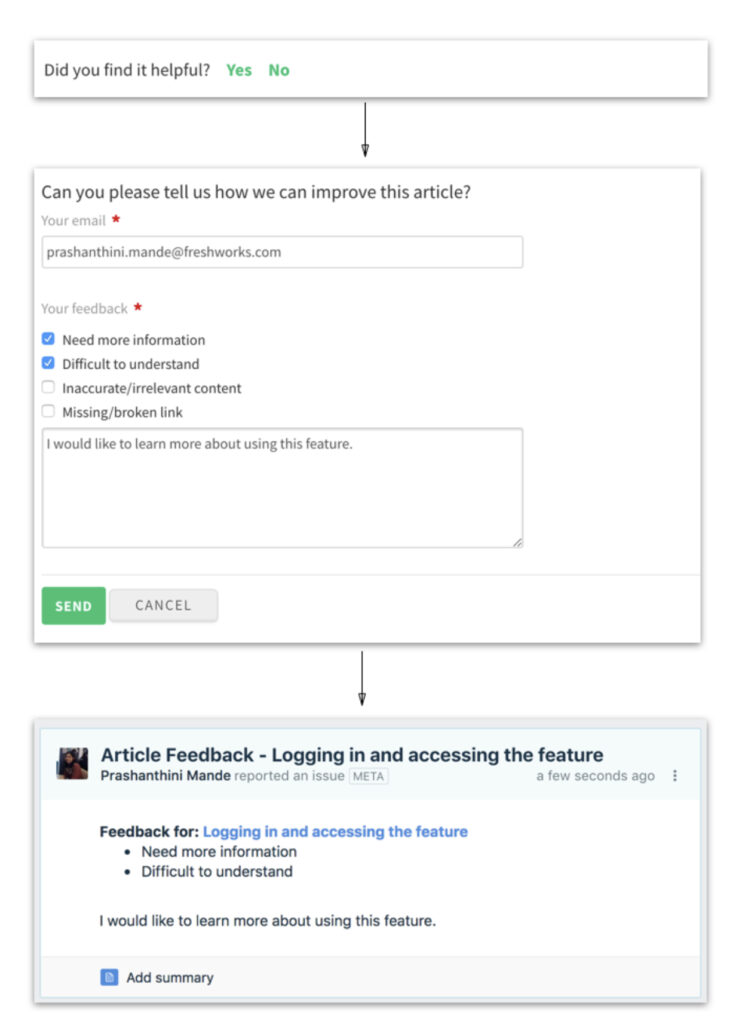 Essentially, if you want to increase mobile app engagement, make your app easier to use and troubleshoot by implementing a knowledge base. Just be sure your site will be able to provide fast site speed, security, and uptime required when choosing your web hosting to support these elements.
Importance of Good User Experience
Did you know that there is a significant return on investment (ROI) to providing a good user experience? By following the steps outlined above to increase mobile app engagement, you're bound to improve user experience in the process.
In fact, a good user and customer experience lead to positive word of mouth advertising and users are 5X more likely (source: GetVoip, The ROI of Customer Experience) to recommend if their experience is positive rather than negative.
So what does good user experience mean for you..? More sales.
Consumers with good user experience are 4.2X more likely (source GetVoip, ibid.) to buy again, making user experience non-negotiable in your mobile app strategy.
Getting on board with an omnichannel marketing strategy will also boost user experience and ROI by creating a seamless experience that shares a unified message for your brand.
In short, the best omnichannel marketing strategies are customer-centered strategies that adapts to the consumer making for enhanced user experience.
Don't miss out on higher returns on your investment by neglecting these crucial mobile app elements.
Develop an Onboarding Process
Using a new mobile app can be daunting to some people.
It takes time to understand how it works, how to change settings, and how to browse with fluidity.
That's where an onboarding process comes into play.
Onboarding content can be almost anything that teaches a new user the key features of your mobile application.
It can come in almost any format, but the most common is video.
For instance, Housecall Pro's plumber app creates gif-based screen captures for their onboarding process, where they take you step-by-step through a video tutorial on how to use the application: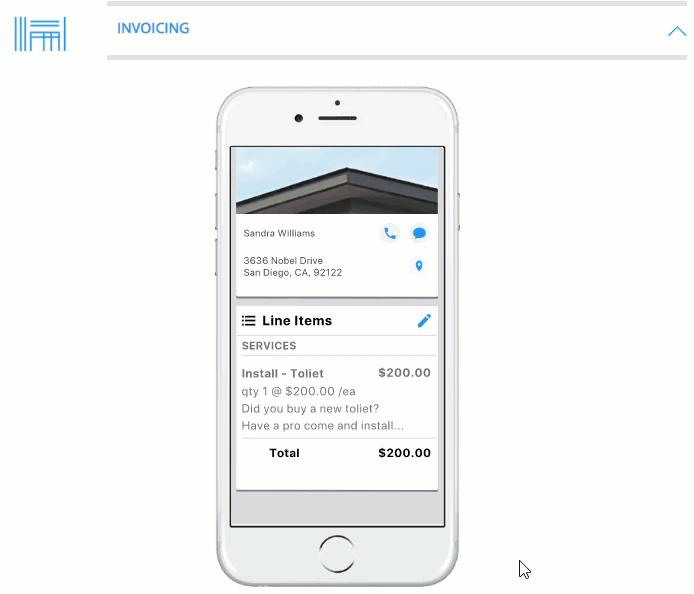 For each unique element of the application, one of these basic tutorials (combined with written steps) exists.
Now that is user onboarding.
Analyze Your Mobile App Usability
There is no way to sugar coat it: if your mobile application isn't designed for usability, increasing app engagement is going to be tough.
Even if you believe your app is usability optimized, you never know how users will react.
Think of it this way:
You are biased. You have used your application before. Many times. But to a brand new user, are they going to know exactly where to find the right info? Or what elements on the app are the proper next steps?
Chances are, they won't.
And that's where beta testing and analyzing your usability comes into play. This can help you understand sticking points
Start by utilizing session recording. Session recording shows you real sessions of user engagement on your application: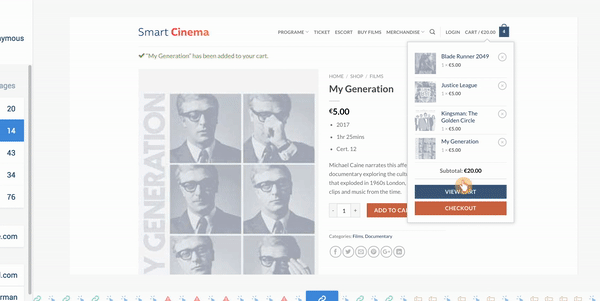 Here you can start to analyze common trends in user-flow and behavior.
Note common sticking points or roadblocks.
Are your users exiting their sessions after encountering bugs or troubles?
Note those down as ways to improve your usability.
Session recordings should serve as a direct example of how your application is being used and the potential ways you can improve everything from menus to buttons and more.
Couple session recording with event tracking & heatmaps to uncover the most clicked and engaged sections of your app, too.
In Smartlook visualizing user engagement on a mobile app looks something like this: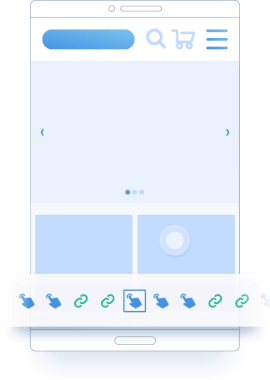 Supported by such data you'll be able to understand how users engage with your app, where they fail and what are your biggest opportunities for increasing engagement.
Subtly Promote Your App Via Content
One of the best ways to increase mobile app engagement is by driving more qualified traffic to your app.
And the best ways to do that are by creating more engaging content.
The trick here is, you don't want to be directly promoting your app.
If you provide great content that centers around your app's service, the traffic will engage.
There are countless ways you can promote your app in content:
Showcase it on a webinar or within a tutorial video
Talk about it with a guest on a podcast and have them explain how they used it to benefit their business
Develop long-form blog posts to become a brand leader in your niche
Put some of these to the test and you'll be driving higher app engagement.
One of the best examples of subtle promotion I've seen with mobile apps is Buffer. Buffer is a social media scheduling tool and their content is centered around better social media marketing.
But they don't just simply write content and blog graphics about how to schedule posts and use their app.
Instead, they've crafted brand awareness by touching on top of the funnel topics like: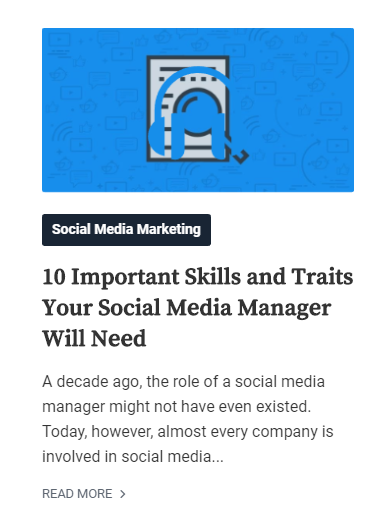 Using a tool like Ahrefs, compile a list of keywords that you can target, and ensure you can create content around them to promote your app.
For instance, let's say your application is weather-driven.
You can target heavily trafficked keywords in that space, like: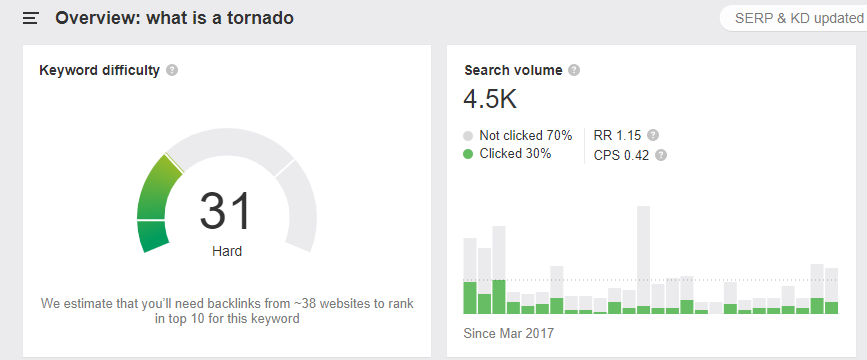 While not directly targeting keywords about the weather, you are forming your brand as a leader in the weather space.
Next time they go to download a weather-based app, your brand will be first in mind.
Run App Ads on Facebook
The latest research shows that PPC generates an average of $2 for every $1 spent (Source: SpyFu). That's a 2x return on investment, on average!
With enough testing and tweaking, you can significantly raise that.
Now, using expanded ad types, advertising your mobile app is easier than ever. For example, on Facebook you can run mobile app ads to highly-targeted audiences to showcase your app: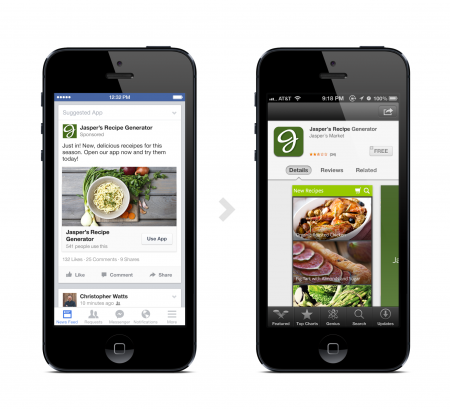 Combine that with proper audience targeting and you can generate big returns on your investment.
To increase engagement, you need traffic on your app. More traffic will help you refine your usability and increase performance in the long-run.
Run a few small campaigns to generate traction in your space.
Conclusion
There are countless mobile apps out there. It can feel almost impossible to drive more traffic on them and increase engagement.
But, there are a few key ways you can do it.
Start by creating a knowledge base. This will help both existing and new users to better utilize your app. The more value they derive from it, the more they will come back.
Develop a solid onboarding process to ensure you are lowering customer churn, too.
Analyze your usability with heatmaps and session recordings to refine your app and make it more user-friendly. A more user-friendly app will keep engagement high.
Lastly, subtly promote your app with content and bring in targeted traffic with PPC ads.
—
This blog post has been written by a guest contributor. If you'd like to contribute to share your amazing insights with us, please reach out to us via Social Media or the contact form.