Do you know what "Norman Doors" are? Although the term describes doors that are too confusing to open, you can apply this concept to anything that has a bad UX.
Badly designed headphones, ATMs, or a digital product such as a website or mobile app? Call it Norman doors. What's common for those examples is the poor design that makes its users puzzled, frustrated, or angry.
If you're working on a mobile application, you don't want it to offer poor UX that results in application uninstall. That's why it's important to design your app in a way that ensures it's usable, intuitive, and enjoyable to use.
This article will help you understand everything about mobile UX and how to improve app user experience on mobile devices.
You'll dive into the following topics:
Note: If you're new to mobile app UX, read the whole article. If you're a UX professional or already experienced in this field, skip to the most relevant section for you – "How to improve mobile app UX."
What is mobile app user experience (UX) design?
Let's start with the definition of UX. The Nielsen Norman Group describes it as a very broad concept:
"User experience encompasses all aspects of the end-user's interaction with the company, its services, and its products. […] True user experience goes far beyond giving customers what they say they want, or providing checklist features."
At the same time, the Interaction Design Foundation specifically defines mobile user experience design as:
"Mobile UX design is the design of user experiences for hand-held and wearable devices. Designers create solutions (typically applications) to meet mobile users' unique requirements and restrictions. Designers focus on accessibility, discoverability and efficiency to optimize on-the-go interactive experiences."
The mobile UX topic is wide and designers have to deeply understand user behavior when working on UX optimization.
This means they have to collect data and analyze:
User behaviors
User needs
User pain points
User motivations
The context in which users interact with mobile apps is also important. Mobile app users have specific goals to achieve, but the attention span varies, as does the environment.
If you think mobile app UX optimization is hard work, you're right. It's tough to collect a lot of user data and deeply understand how they use your mobile app. But there's good news – improving mobile app design and UX pays off.
If your users find your mobile app familiar, self-explanatory, and memorable, they'll likely use it again. Also, if your app doesn't require mental heavy lifting and lets them complete a task (buy a product, get information, read news), they'll stick with it or even recommend it to others.And that should be your ultimate goal – a well-designed app with good UX that sparks strong positive emotions in its users. If your app is successful, your business will be too.
Why good mobile UX is important for your business
You already know that poor app user experience is frustrating. But negative experiences lead to more serious problems. Users will be more likely to churn, leave a bad review, or criticize the app to a friend.
And as UX is a part of brand experience, poor UX will make a dent in your brand image. According to Think with Google, negative brand experiences influence purchase decisions.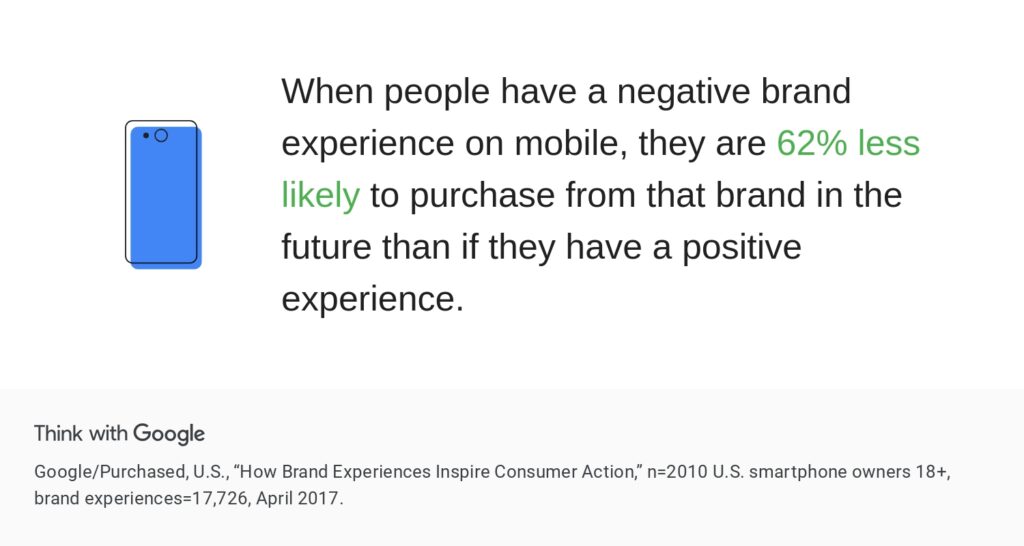 So if you want your users to stick with your app, make it great. The business benefits you'll reap in return will be tremendous.
These are the most important ones:
Higher conversion rates
Better Net Promoter Score (NPS)
More loyal customers
A higher app adoption rate
Lower churn rate
As a result, you'll get more sales and higher customer lifetime value. But, you remember that mobile app UX optimization is hard work, right? Mobile apps have 1 limitation that makes it harder to work on UX optimization. Read the next section to learn more about it and move past this obstacle.
1 limitation that makes it hard to improve mobile app UX
There is 1 big limitation when working on mobile app UX optimization – usability testing on mobile.
Why usability testing on mobile is tricky
Mobile usability testing is observing participants while they do an assigned task in an app. The main goal of usability testing is to get an idea of how people use the app, how easy or difficult it is for them, and what areas need improvement.
Usability testing on mobile is tricky, though. Because of the mobile screen size, it's harder to observe participants and all their gestures.
According to Steve Krug's book "Don't Make Me Think" there are common issues of mobile usability testing:
Do participants need to hold the device naturally, or can it be sitting on a table or propped up on a stand?
What do the observers need to see (e.g., just the screen, or both the screen and the participant's fingers, so they can see their gestures)? And how do you display it in the observation room?
How do you create a recording of how they use the app?
Additionally, to get accurate results from mobile usability testing, you'd have to simulate scenarios in which people use smartphones.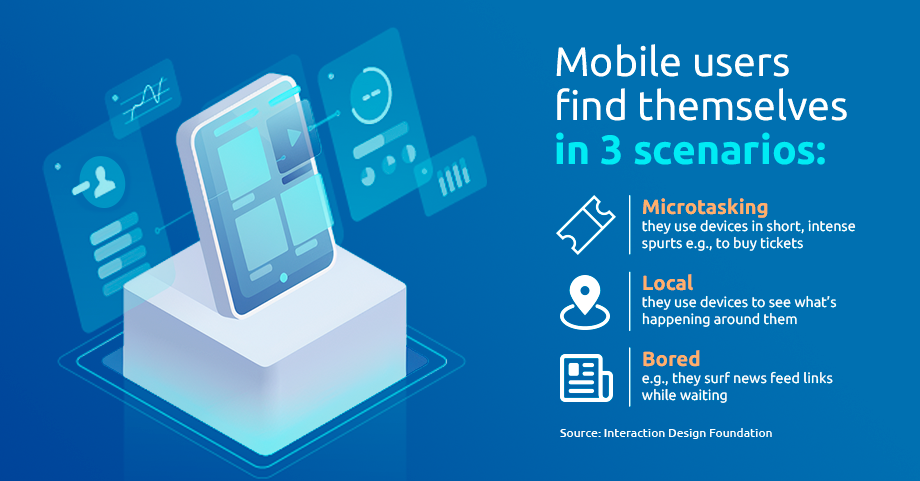 And it's almost impossible to conduct usability testing in those 3 scenarios. Thus, you won't get accurate results of how people use your app, what experience they have, and what they think of its usability.
If mobile usability testing is that tricky, then maybe you should gather user feedback instead? This might be shocking, but according to the "guru of Web page usability," Jakob Nielsen, you shouldn't listen to your customers.
Jakob Nielsen says that the first rule of UX design is: Don't listen to your customers. Your users aren't designers, so they won't know how the interface design should look like. What's more, users are biased with what's already familiar to them, so they won't request anything innovative.
Instead, improve your mobile UX by watching how users interact with your app. And you can achieve this with the right tool that combines both quantitative and qualitative data.
How to improve mobile app UX with quantitative and qualitative data
Smartlook is a website and mobile app analytics tool that combines the power of:
Session recording
Event tracking
Heatmaps
Funnel analysis
You'll see authentic user behavior and based on this, you'll have evidence to make mobile UX improvements. Smartlook records all mobile app users. It means you get a statistically significant sample size that would be impossible to obtain when doing usability testing with a small participant number.
Discover how to improve your mobile app UX with session recordings, heatmaps, events, and funnels.
Mobile app session recordings – improve mobile app UX
With session recordings, you'll see how users interact with your mobile app "in the wild." You'll see granular behaviors of individual users including every tap, scroll, button interaction, or form submission.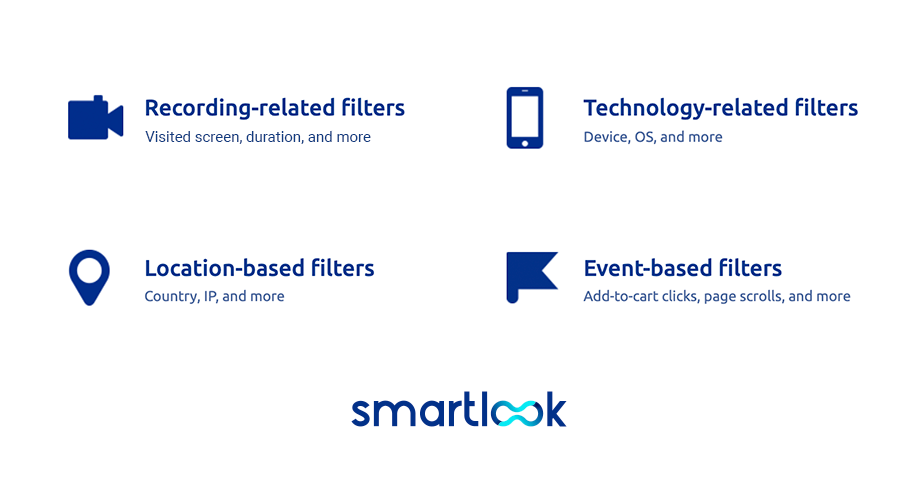 With session replays, you'll discover:
If users navigate your mobile app in the intended way, or whether they get stuck somewhere
If users rage click on a non-interactive button or element that seems to be interactive but isn't
If your app has UI design inefficiencies – e.g., a return button that hides under a drop-down menu, so your users struggle with navigation
If functionality you chose for your app bring your users value
And if you want to focus on specific users or specific actions, session recording filters will help sort out what matters the most. For example, filter mobile session recordings by Android OS (or iOS) and session duration of at least 2 minutes.
Thanks to this setup, your development team will analyze a bug that Android users reported recently. Watching a filtered batch of recordings saves a ton of time for your team and helps solve problems fast. As a result, you'll provide bug-free UX.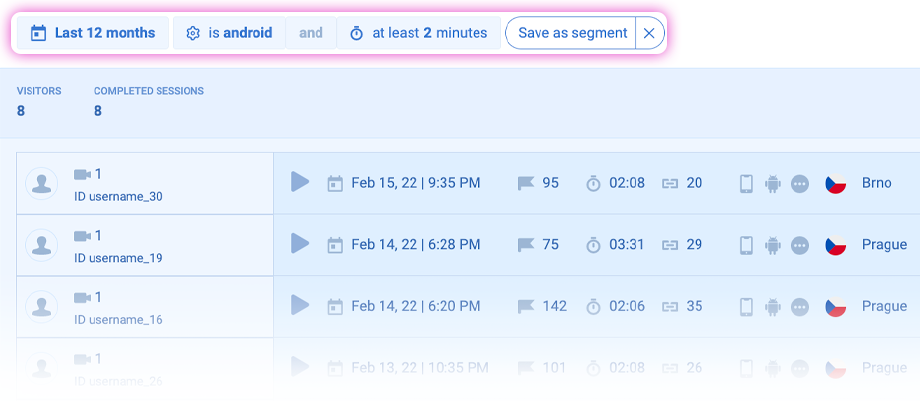 Mobile app heatmaps – improve mobile app UX
Mobile heatmaps will serve as a starting point for any UX improvement you'll make.
Mobile heatmaps are a visual representation of user interactions. The most engaging elements are hot spots marked in red, while the least engaging elements are cold spots marked in blue. Those of average popularity are marked between the spectrum of red and blue.
With heatmaps for your mobile app, you'll see:
Which areas of your mobile app get more attention and which get less attention
Which buttons are engaging for users and which are completely omitted (because they aren't prominent enough)
If there are any banners or images that users want to interact with but are non-interactive
For example, below, you'll see that mobile app users engage with the "Thumb down" button and don't engage at all with the "Thumb up" button. This could mean that the video in your app doesn't display properly, or the content isn't interesting for your users.
Verify what's the problem by pressing the small "Play" icon at the bottom of a heatmap. You'll see users who viewed this screen. With recordings, you'll learn what makes users tap on the "Unlike" button and at which moment it happens. Thanks to this information, you'll better understand your users and provide them with a better app user experience.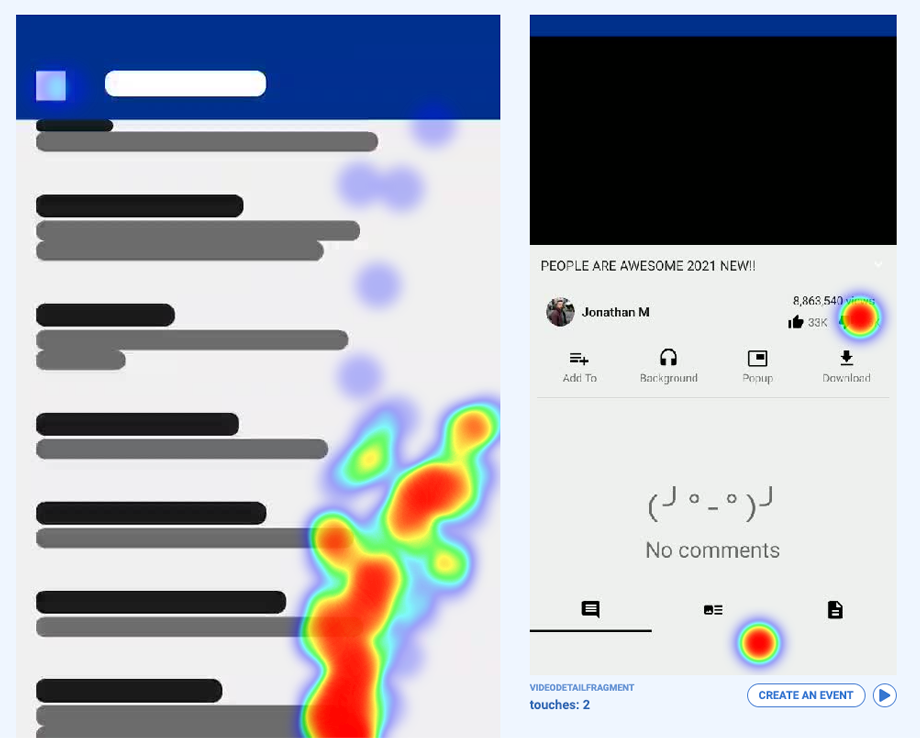 Also, you can check the aggregated number of clicks in a particular area by marking the area that interests you.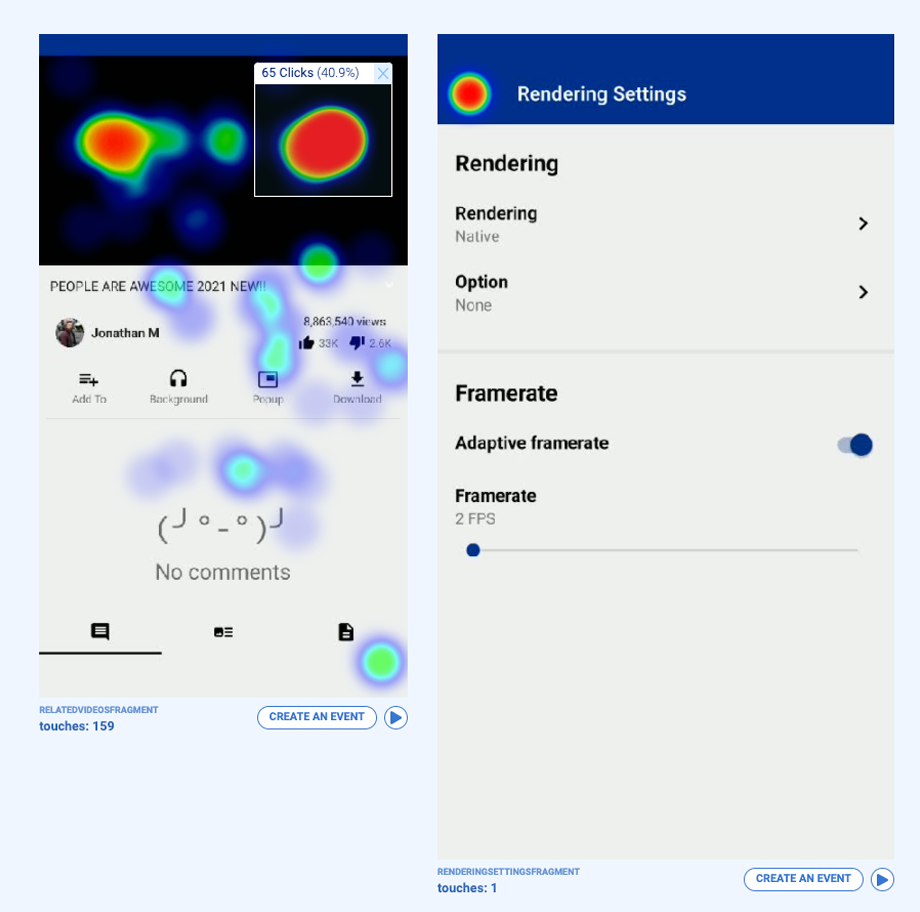 How to create a heatmap for a mobile project in Smartlook? You need to choose a date range, and Smartlook will create a gallery for all the fragments of your mobile app within that date range. By exploring heatmap galleries in Smartlook, you'll see all screens of your app in one place.
You can also create an event from a mobile heatmap (that's connected to a visit on a particular screen) or watch a session recording of those who interacted with this screen.
Mobile app event analysis – improve mobile app UX
In Smartlook, you can define a series of events that can be a button tap or a text-field input. You can also create custom events. Events are powerful because you focus your UX analysis on a single action and see the number of errors or clicks.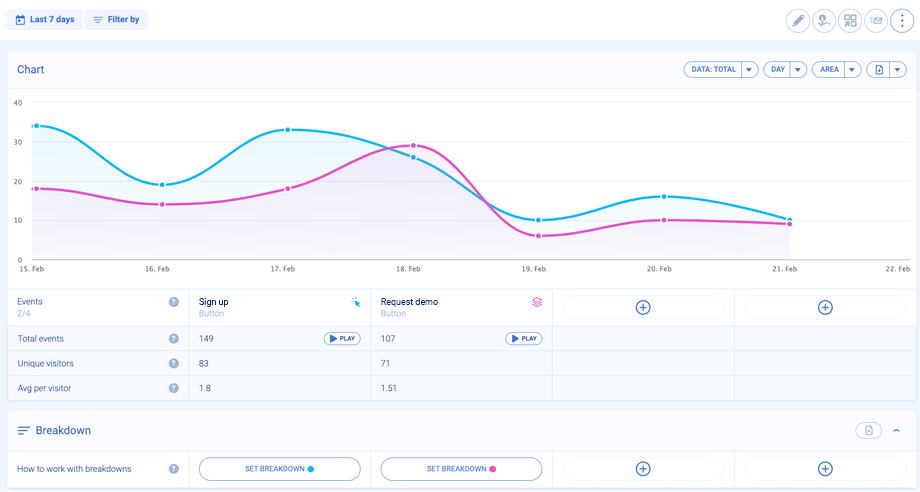 For example, you want to analyze how the most important "Sign up" button performs over time. You either analyze it separately or compare it with another key button like "Request a demo."

Remember that mobile app space is limited, so this comparison will help you decide which button should be more prominent. This data evidence will also help declutter your mobile app user interface (UI). In addition, you can filter session replays by a specific event to see what happened before and after the event.
Mobile app funnel analysis – improve mobile app UX
To improve your mobile app UX, you'll also use event-based funnels. Thanks to funnels, you'll analyze the most important touchpoints of the mobile user journey.
It can be a purchase funnel, onboarding funnel, or any other path that's key in your mobile app. You can create a funnel with an unlimited number of steps.

With funnels, you'll improve your mobile app UX by:
Optimizing a funnel to decrease drop-offs before a purchase
Verifying where are the trouble spots and what stops app users from, e.g., completing the full onboarding guide
Verifying the most intuitive paths, so you can implement similar paths in other parts of your app
By comparing user behavior and navigation patterns of those who completed a funnel with those who didn't, you'll see what exactly needs to be fixed in your app.
Make your product design outstanding and ensure a good app user experience
Now you're armed with UX knowledge and a tool that will help you polish your mobile app UX.
What's the key lesson from this article? Don't let your mobile app fall into the category of Norman doors. Don't let your application frustrate or confuse users. Don't give them reasons to uninstall your app.
Instead, use analytics tools to make informed decisions. Always observe in-app user behavior and make improvements based on authentic user actions. Optimize mobile app UX continuously, so your users remain happy and loyal.