Heap and Mixpanel are among the most widely-used analytics solutions by product teams.
While they can both help you analyze user behavior on mobile and web apps, there are clear differences between the data they collect, the difficulty of their setup, and their potential use cases.
In this article, we'll break down these differences, as well as both tools' overlapping features. We'll also discuss how Smartlook — our combined product analytics and visual user insights platform — can be a great alternative (or addition) to Heap and Mixpanel.
Before we dive into the details, here's a quick overview of the key points to consider.
Setup process
Heap and Smartlook capture every user session in your product with one code snippet and let you track events without coding. This makes their setup fast and simple. It also ensures you get useful behavior data within minutes of implementing either tool.
Mixpanel has a manual setup that requires you to implement tracking for each event individually by writing code. This provides granular control over the event data you collect. However, it makes the setup much more time-consuming and reliant on constant developer assistance.
Key features
Heap is a digital insights platform with both quantitative and qualitative analytics features. It comes with traditional product analytics features, like segmentation, funnels, and retention analysis. Plus, Heap recently added session replay to the platform, so it can now also collect qualitative data.
Mixpanel is a traditional product analytics tool focused entirely on quantitative data. The platform has most of the quantitative analytics tools that Heap offers (e.g., funnels, segmentation, and retention). However, Mixpanel also has more advanced analytics capabilities, like its Impact and Signal Reports, which let you see how feature releases impact user behavior, and more.
Like Heap, Smartlook also combines the power of quantitative and qualitative analytics. Our platform offers both session recordings and heatmaps. Plus, it has important quantitative analytics features, like event tracking, funnel analysis, Retention Tables, and more. Also, Smartlook can be integrated with Mixpanel, while Heap doesn't have a Mixpanel integration.
Pricing
All three platforms have free plans andfree trials.
Heap is the only one of the three that doesn't have transparent pricing, since you have to contact their sales team to get a quote.
In contrast, Mixpanel and Smartlook have pre-made plans with transparent pricing, as well as an option to build custom plans. This makes them ideal for all kinds of businesses — from small startups to large organizations.
Now we'll take a closer look at the difference between each tool and how they affect the kind of insights you can gain.
Here's what we'll cover below:
Smartlook is our product analytics and visual user insights platform with transparent pricing and an easy setup. Start analyzing and improving your users' experience with our full-featured, 30-day trial (no credit card required), or book a demo with our team to see how Smartlook can benefit your business specifically.
Overlapping features and use cases between Heap, Mixpanel, and Smartlook
Heap, Mixpanel, and Smartlook can all be used to analyze user behavior on websites, web apps, and native mobile apps.
And, since they're all product analytics tools, they share some features that pretty much all organizations need to build better products. Outside of minor differences in how these features look, their functionalities are almost identical.
Here's where Heap, Mixpanel, and Smartlook overlap:
1. Customizable dashboards. Heap, Mixpanel, and Smartlook all allow you to create multiple dashboards with different charts, reports, and insights. These dashboards are useful for monitoring important metrics and sharing them with others.
For example, the screenshot below shows a Mixpanel dashboard.
2. Event tracking. The ability to track events — individual user actions like button clicks or text inputs — is fundamental for any product team. All three tools let you select which actions you want to monitor and track them as events (as shown in the Smartlook event tracking visualization below). The big difference is that Heap and Smartlook allow you to monitor events without coding, while Mixpanel requires you to write code in order to track events.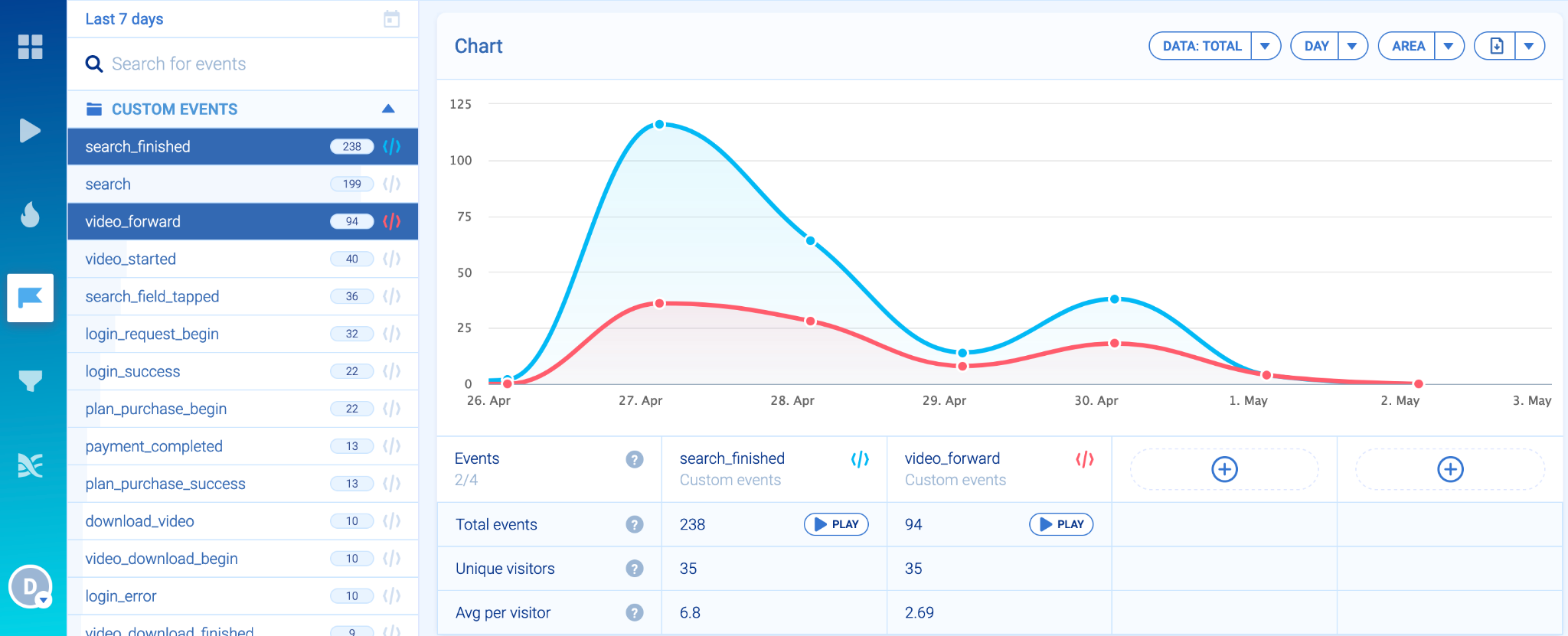 3. Funnel analysis. Heap, Mixpanel, and Smartlook all let you build funnels that map out important user flows, like ecommerce checkouts or SaaS onboarding tutorials. As with most other web analytics tools (like Amplitude or Kissmetrics), building funnels requires placing events in the order you believe your users follow.
The screenshot below shows Heap's funnel module.
4. Retention analysis. Heap has a retention module, Mixpanel has Retention Reports (shown in the screenshot below), and Smartlook offers Retention Tables. They all allow you to track whether a cohort of users who performed a certain action for the first time continue to do so over the following days, weeks, or months.
5. Segmentation. The process of grouping users based on events or properties (device, country, etc.) works slightly differently in Heap compared to Mixpanel and Smartlook. In Heap, there's a dedicated "Segments" option (shown below). In Mixpanel and Smartlook, you start with a report or event, break them down by certain properties, and save that as a segment. The end result is the same — you can monitor how a specific user segment behaves over time.
6. Integrations. All three tools can be integrated with A/B testing solutions, analytics platforms, CRMs, and other widely-used tools. In fact, Mixpanel can even be integrated with Smartlook. This allows teams to go beyond the raw stats and metrics that Mixpanel provides and get the full context behind their users' actions with Smartlook's session recordings. The screenshot below shows how you can access a Smartlook session recording directly from Mixpanel's UI.
Lastly, for a deep dive into the use cases of these six features, including real-life examples, check out our practical guide to product analytics.
Heap vs Mixpanel vs Smartlook: Setup process and key differentiators
Now that we've covered the overlapping capabilities, let's discuss what makes each tool unique in terms of setup, features, and use cases.
Heap's setup and differentiators
Heap is an analytics tool that works via autocapture. The autocapture method records user interactions — like clicks, text inputs, or page views — with a single code snippet.
This makes Heap's setup easy because you don't need to implement tracking for each event individually.
Instead, you add the tracking code and the platform automatically starts collecting product usage data. Then, you can use Heap's versatile features to perform both quantitative and qualitative data analysis.
On that note, here are some important Heap features that we didn't cover in the previous section:
Journeys, which is a map of the paths users take through your product. This visual map automatically calculates conversion rates for each user path and sub-path. It's also customizable, with Heap automatically suggesting different actions to add for a better understanding of the user journey.
Illuminate, which is a data science layer that analyzes the data collected by Heap's autocapture. The goal of this analysis is to provide automated insights in real time, like points of friction or opportunities for boosting your conversions.
Session replay, which is a new addition to Heap's feature set. Session replays show you exactly how users navigate your product during their session. This makes them a great tool for empathizing with your users and uncovering the "why" behind their behavior.
To learn more about session replays, check out our guide to recording website visitors.
Data governance, which makes it easy to manage the large datasets generated by the autocapture approach. Heap offers a suite of data governance tools, all of which aim to keep your user data organized with consistent naming conventions, categories, event history, and more. Also, Heap Connect lets you easily send that data to a cloud data warehouse.
Mixpanel's setup and differentiators
Unlike Heap, Mixpanel is a more traditional product analytics tool because it only collects quantitative data (i.e., no session recordings) and doesn't capture user interactions automatically.
Instead, Mixpanel relies on manually tracked events that have to be set up via code changes.
As a result:
Mixpanel is much more difficult to implement than Heap (and Smartlook). You need to plan which events you want to track, have your engineering team set up the tracking, and then test if everything's working correctly. This process can often take months from start to finish. It's also highly dependent on your engineering and data analytics teams. This high barrier to entry, plus the lack of qualitative analytics, often pushes teams to look for an alternative to Mixpanel.
You get more granular control over each event you collect. Again, that comes at the price of a more complicated setup.
After the implementation, Mixpanel lets you create different reports and organize them into dashboards, like this "Core Company KPIs" dashboard below:
You get to choose between four report types:
1. Insights Reports, which are useful for analyzing events, cohorts, and user profiles and visualizing the data in line, bar, pie, and other chart types.
2. Funnels Reports, which let you analyze how users navigate flows and where they drop off.
3. Retention Reports, which let you analyze user engagement over a period of time (as we showed earlier).
4. Flows Reports, whichidentify the most frequently taken paths to or from any event you select.
Outside of these reports, Mixpanel also offers two quantitative analytics features that Heap and Smartlook don't — Signal and Impact analysis.
Signal Analysis lets you find user actions that correlate with goals like in-app purchases or retention. Impact Analysis uncovers relationships between feature launches and user behavior.
Smartlook's setup and differentiators
Smartlook is our combined product analytics and visual user insights platform.
Like Heap, it also has a very simple setup — you install one code snippet and Smartlook automatically starts recording all user sessions in your product.
This means you can set up Smartlook and have valuable user behavior data within minutes.
Our platform brings together four key features.
1. Session recordings (or session replay), which show you exactly how users navigate your product, from the moment they open it to the moment they close it. As we said earlier, this lets you uncover why users do what they do. Plus, Smartlook helps you find relevant recordings fast with over 30+ filters and an Identify API for locating the sessions of specific users.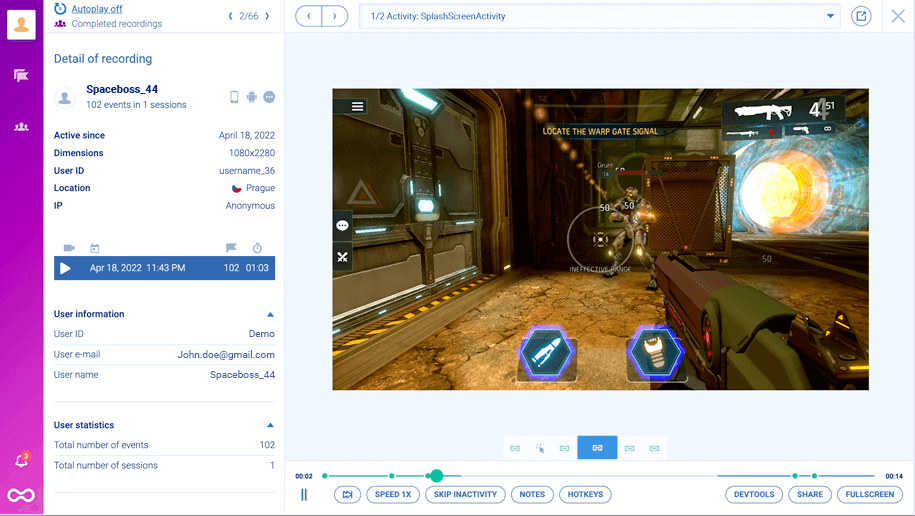 2. Heatmaps, which show you an overview of a typical user's behavior on a page or screen. Smartlook supports three types of heatmaps — click maps, move maps, and scroll maps, all of which give you useful insights into your users' behavior that you can't get with Heap or Mixpanel.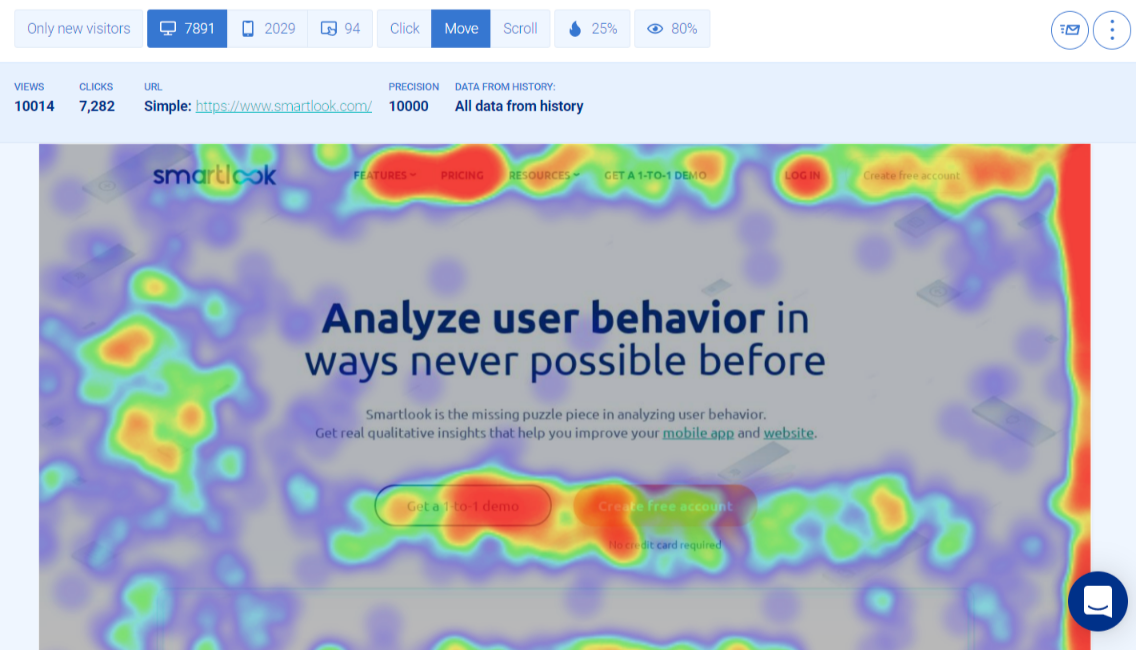 3. Events, which are individual user actions that you monitor over time. Similar to Heap, Smartlook tracks user interactions with a single code snippet and lets you define events without coding. Plus, once you've started tracking an event, you can jump straight into all session recordings where it was triggered by clicking on the "Play" button under its name.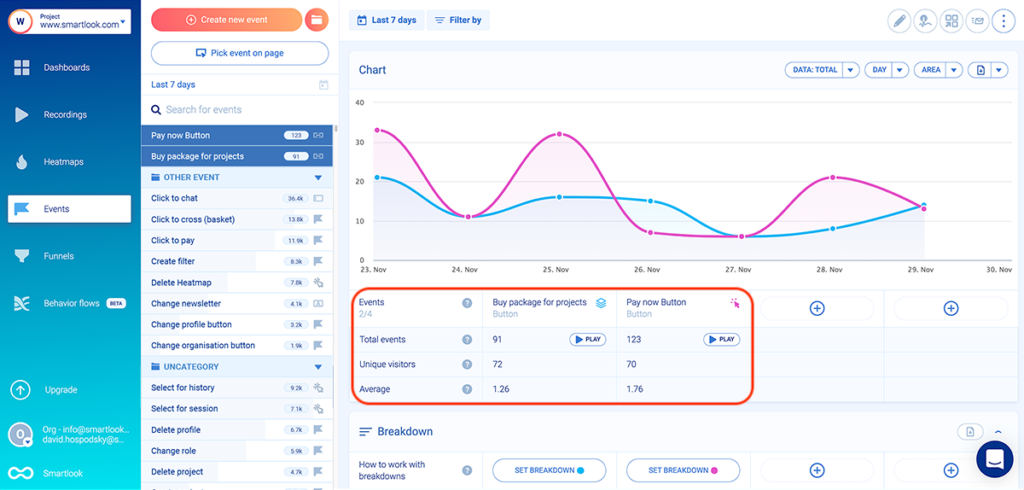 4. Funnels, which help you analyze your most important user flows, calculate conversion rates, and see where most drop-offs occur. And since Smartlook also has session recordings, you can quickly jump into the sessions of users who dropped off at a specific stage and find out why.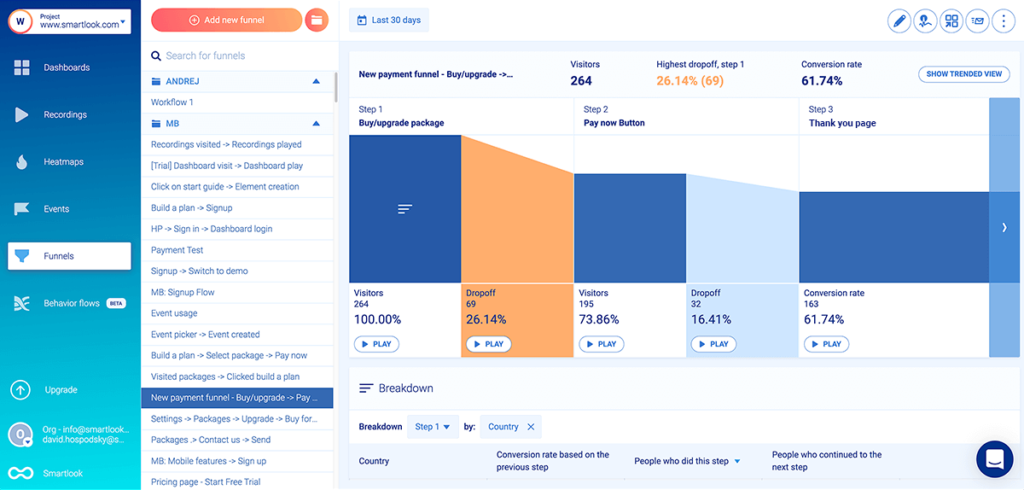 Besides these four key features, Smartlook offers Behavior Flows, Retention Tables, segmentation, and lots of other capabilities.
For more details on how to use Smartlook to improve your UX, conversions, and retention, check out:
Heap vs Mixpanel vs Smartlook: Pricing comparison
Finally, let's run through each tool's pricing — including free plans, trials, and paid options — to round out this comparison.
Heap: Non-transparent pricing
Heap offers four different plans — Free, Growth, Pro, and Premier.
The free plan is very generous, as it captures up to 10,000 monthly sessions.
However, there's no publicly available pricing for the paid plans. To get pricing details, you need to contact Heap's team or complete a free trial.
Note: Until recently, Heap had listed its cheapest paid plan (Growth) at $3600/year, with some sites like G2 still using that number. While the $3600 figure has been removed from Heap's website, it was listed until recently so the starting price might still be in that ballpark.
Mixpanel: Transparent pricing based on tracked users
Unlike Heap, Mixpanel offers transparent pricing, based on your product's monthly tracked users (MTUs). Your MTUs are the number of unique users with at least one event in the last month.
Mixpanel's free plan lets you track up to 100,000 MTUs, but has very limited features. If you go beyond that limit, or need to access Mixpanel's advanced features, you can create custom plans, starting at $25/month.
For example, if your product has 15,000 MTUs, Mixpanel's base pricing starts at $250/month on the monthly plan or $2100 on the annual one (but volume discounts are baked into the price as your MTUs grow).
Also, note that two of Mixpanel's features — Data Pipelines and Group Analytics — are sold as separate add-ons, at 20% and 40% of your base plan, respectively.
Data Pipelines let you export Mixpanel data directly to warehouses like Azure and Snowflake. Group Analytics lets you calculate metrics at the account or company level. With these features, Mixpanel is 20-60% more expensive than the initial price tag.
Smartlook: Transparent pricing based on user sessions
Like Mixpanel, Smartlook's pricing is also transparent. The difference is that our plans are based on monthly user sessions, not tracked users.
The free plan lets you record up to 3,000 user sessions per month (no credit card required). The four key Smartlook features — session recordings, events, funnels, and heatmaps — are all available on this free plan.
Paid plans start at $55/month and come with a full-featured 30-day trial (again, no credit card required). They come with a higher monthly session limit, as well as longer historical data storage, more events, funnels, and other premium features.
You can also build custom plans based on how many monthly sessions you want to capture or an Ultimate Plan with custom limits for session recordings, events, funnels, and heatmaps.
Improve your product analytics tech stack with Smartlook
Smartlook gives you robust analytics that show what your users are doing — paired with session recordings and heatmaps that show why — all without hiding the price tag.
Our platform can be used on websites, web apps, and native iOS and Android mobile apps. Additionally, Smartlook integrates with several tools used by product managers, marketers, UX experts, and developers — like Google Analytics, Optimizely, Segment, Sentry, and more.
Many product teams find that Smartlook provides all the quantitative analytics capabilities they need, while the qualitative insights from session recordings empower other teams to understand user behavior.
But if you're already using Mixpanel, Smartlook's session recordings and heatmaps can give you the necessary context to understand user behavior.
To learn how Smartlook can benefit your business without spending time setting it up, schedule a free demo with our team. We've found that customers who go through the demo have a 70% faster onboarding time and leave positive reviews 99% of the time.
Lastly, you can also give Smartlook a go yourself with our full-featured, 30-day trial (no credit card required).