UXCam and Smartlook are two of the most popular mobile app analytics tools.
They have an identical approach to capturing behavior data by recording all user sessions on your app. Plus, they also have features like session recordings, heatmaps, and events that help you analyze how users interact with your app.
But despite the similarities, UXCam and Smartlook have fundamental differences that affect what you can do with each tool.
In this article, we're going to explore both tools' features, use cases, and pricing, so you can make a well-informed decision. We'll break down our comparison into three sections:
1. UXCam and Smartlook's overlapping features
UXCam and Smartlook share some key features, including session recordings, heatmaps, events, and crash reports. We'll discuss how these four features work and how they can benefit your business.
2. UXCam vs Smartlook: Differences in features and use cases
The key difference we'll explore stems from the fact that Smartlook is available for websites, web apps, and mobile apps, whereas UXCam can only be used on mobile apps. This affects how much of the customer journey you can actually capture and analyze.
3. How UXCam's pricing compares to Smartlook's
Both tools offer free plans, free trials, and personalized demos, and their pricing is suitable for businesses of all sizes. However, their pricing plans are different in terms of transparency and customization options, as you'll learn in this section.
Smartlook brings rich product analytics & visual user insights for mobile apps and websites under one roof — without hiding the price tag. Book a free demo with our team or start analyzing your users' experience with Smartlook's full-featured, 30-day trial — no credit card required.
UXCam and Smartlook's session recordings, heatmaps, and other overlapping features
UXCam and Smartlook both have features like session recordings, events, funnels, and crash reports. This combination of quantitative and qualitative analytics capabilities lets you:
Analyze aggregate product usage data and metrics like daily active users, retention, and conversion rates.
Track the occurrence of specific actions and the completion of important flows with events and conversion funnels.
Watch how individual users interact with your product and uncover valuable product experience insights with session recordings.
In this section, we're going to discuss these overlapping functionalities and how you can use them to make better product decisions.
Note: Since UXCam is only available for mobile apps, we'll be looking at the features below exclusively in the context of mobile analytics.
Session recordings
Session recordings (also called session replays) capture users' entire sessions in your mobile app — from the moment they open your app to the moment they close it.
This lets you see everything users do, including where they tap, which screens they navigate to, and so on. For example, the screenshot below shows a Smartlook session recording of a user completing a checkout flow.
Besides the session replay video, both UXCam and Smartlook give you additional information about each user, like:
A timeline of all the events they triggered (under the video).
Their device, location, and previous sessions (to the left).
UXCam and Smartlook's session recordings are private by default, so sensitive data like passwords or credit card information is never captured. You can also manually:
Prevent the session recorder from recording certain screens.
Mask or exclude elements from appearing in your session recordings (e.g., email fields or elements with users' photos).
Maintain privacy on all screens by default. Smartlook has Wireframe Rendering Modes, which replace all elements with abstract representations, while UXCam lets you blur screens (as shown below). In both cases, you can still see users' interactions and analyze their behavior, without the risk of exposing personal data.
Lastly, both tools give you a similar set of filters to find the session recordings you need, including:
Location filters like country and city.
Behavior filters like triggered events or funnel stages.
Technology filters like device model and operating system.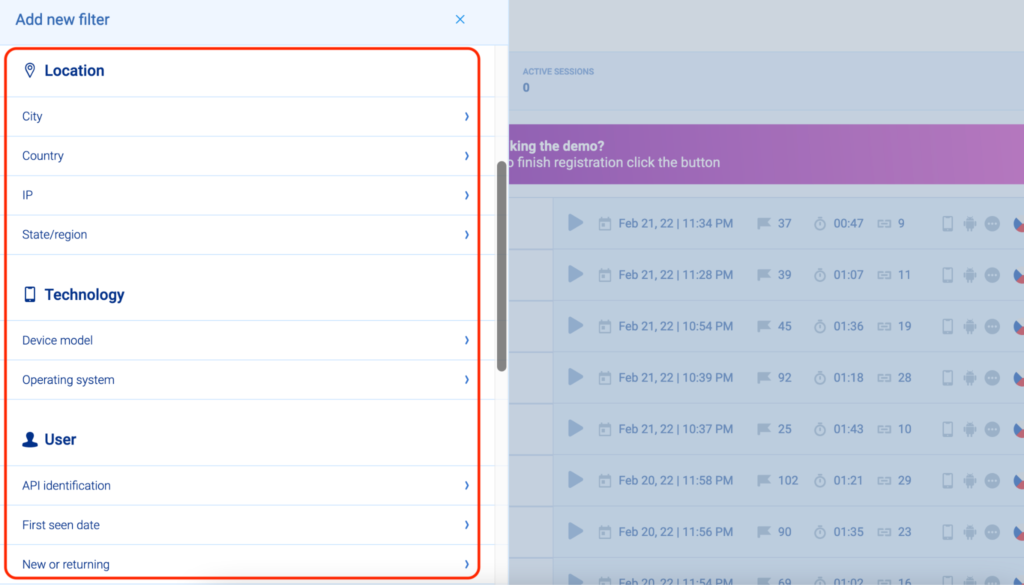 Further reading on this topic:
Heatmaps
Heatmaps give you a high-level overview of how users interact with each app screen.
For example, the screenshot below shows a Smartlook heatmap of a mobile game screen.
The colored spots are areas where users tap, with the red color showing where most taps were concentrated.
UXCam and Smartlook (as well as most other heatmap tools) allow you to create heatmaps for each app screen. They also let you filter the heatmap data based on the device, date, country, and other criteria.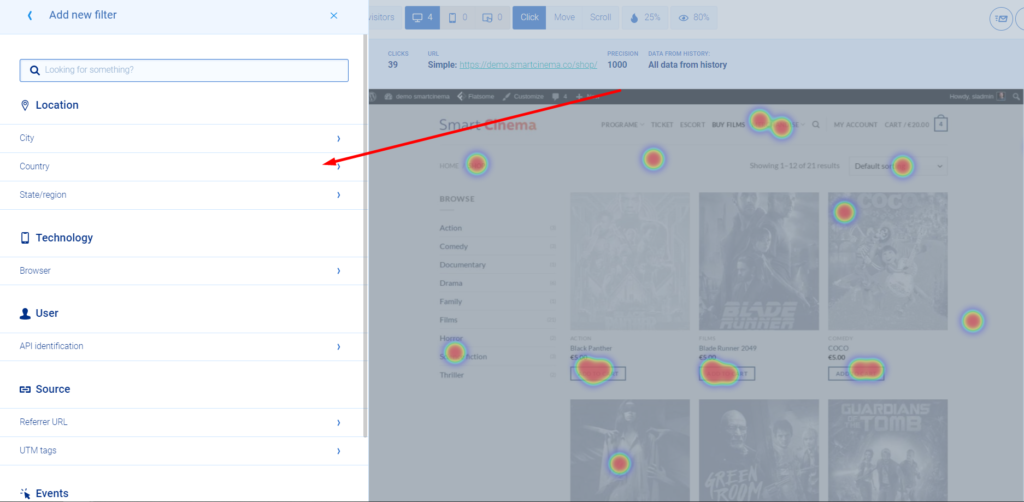 UXCam supports a few more pre-set filters for its mobile heatmaps, like first and last gesture on a screen or in a session.
For more details on this topic, check out our guide to reading a heatmap and getting actionable user experience (UX) insights.
Events
Events are user actions that you can monitor over time, like button taps, screen visits, navigation changes, and more.
UXCam and Smartlook's event tracking capabilities can help you quantify user behavior, evaluate the impact of certain changes, and much more. Both tools also capture some events automatically, which lets you skip the tedious event tracking setup in certain situations.
For example, Smartlook automatically captures two types of mobile app events:
User interaction events like finger touches, gestures, and focus on UI elements.
Analytics events that initialize an action in your app, like button clicks and navigation between screens.
You can also create custom events to track pretty much any other user interaction you want with either tool. The screenshot below shows two custom events that are triggered when users finish their search or forward a video.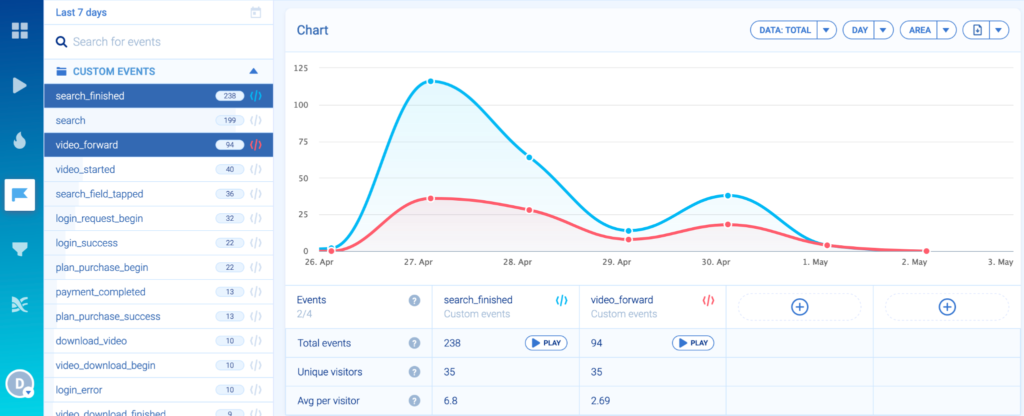 As you can see, there's a "Play" button under each event's name. Clicking that takes you directly to all the session recordings where the event took place (this can also be done in UXCam).
Lastly, you can use the events you're tracking to build funnels with either tool. Funnels are sequences of steps users take to complete a goal, like finishing a checkout process (shown in the screenshot below) or a level in a mobile game.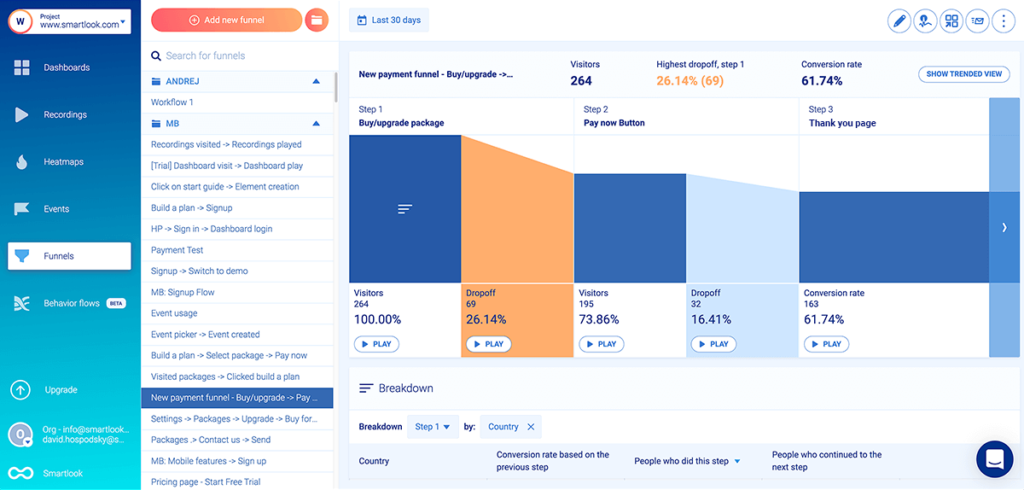 Funnels are vital in many situations, so for more details, see our guide to improving conversions, retention & UX with funnel analysis.
Crash reporting
UXCam and Smartlook can automatically detect application crashes. This feature is called Crash Analytics in UXCam and Crash Reports in Smartlook.
For example, Smartlook's reports give you information about the version of your app where each crash happened and the number of users that experienced it.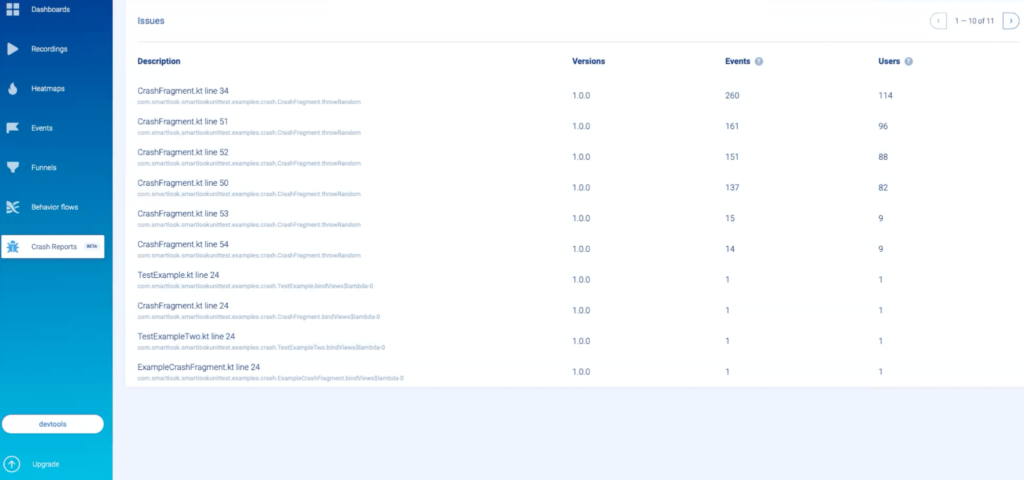 Both tools also show you the stack trace for each crash and let you jump into the session recordings that show how it occurred.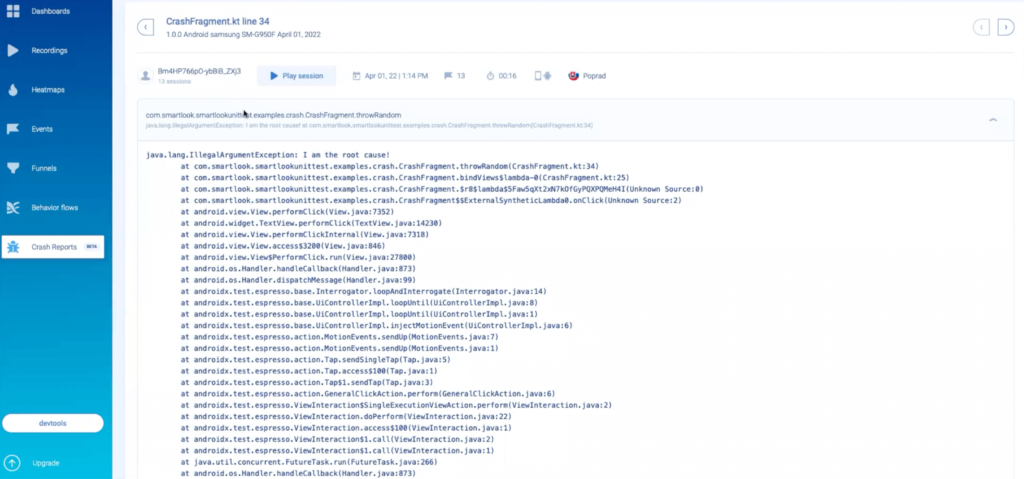 Combining the stack trace information with session recordings makes debugging much easier, as we explained in our article on the top 6 Crashlytics alternatives.
Lastly, UXCam's Crash Analytics feature is available for iOS, Android, Xamarin, and React Native, while Smartlook's Crash Reports are available for Android and iOS apps right now. However, we will expand this feature to other platforms, so refer to our documentation for the most up-to-date information.
UXCam vs Smartlook: Differences in features and use cases
Despite their similarities, UXCam and Smartlook have essential differences, like their supported platforms and integrations.
These differences make Smartlook a more versatile tool because it can be employed in more use cases than UXCam.
In the sections below, we'll look at three of these use cases and discuss how Smartlook's versatility gives it an edge over UXCam.
Use case #1: Analyze the entire customer journey across different platforms
Because Smartlook is available for websites, web apps, and mobile apps, you can use it to track the whole user journey, instead of only one aspect of it.
For example, say you have a product that can be accessed via a website or through a native mobile app. Users may start certain flows on the website — like registrations, onboarding, or checkouts — but complete them on the native mobile app.
This is a classic example of a cross-platform journey. With UXCam, you can get a good idea of the user's mobile experience. You could then use an additional website analytics tool to understand how users interact with your site.
However, this would give you an incorrect picture of the actual customer experience.
First, your website analytics would show that the journey ends when visitors close the site. This is obviously wrong since they're just jumping to a different platform.
Second, the mobile app analytics wouldn't be able to tell you what interactions users had with your site before opening the app. As a result, you can't understand the context of their actions, what they're looking for, or how to improve their experience.
And third, you'd have to constantly toggle back and forth between different tools, which can be annoying and time-consuming.
That's why Smartlook has a cross-platform analytics feature that lets you track these journeys in a combined web and mobile project. This feature, alongside our Identify API, automatically matches each user's website and mobile app sessions and shows them in one place.
For example, the screenshot below shows all the sessions in a customer's cross-platform journey in chronological order. The mobile and desktop icons represent which platform each session took place on.
As a result, you can get an accurate picture of the complete user journey, instead of dealing with siloed data that can lead you to invalid conclusions.
Use case #2: Integrate with other product, marketing, UX, customer support, and developer tools
Integrations let you incorporate tools into your workflow and help other teams benefit from their capabilities. This makes them a crucial functionality for any product analytics solution.
At the time of this writing, UXCam offers six built-in integrations — Segment, Amplitude, Crashlytics, Google Analytics (Firebase), Intercom, and Mixpanel. It's possible to integrate UXCam with other tools as well, but each one must be set up with manual code changes.
Smartlook also has integrations with these six tools, along with many other SaaS solutions, including:
Survicate. Survicate lets teams run different types of surveys. Thanks to our integration, you can watch the session recordings of participants who gave a specific answer to a survey question (e.g., watch users who answered "No" to a question like "Did you like the checkout experience?"). Product managers, marketers, and UX professionals can all benefit from Survicate and the additional context that Smartlook provides to the survey answers.
Google Optimize. Google Optimize is a popular tool that helps marketers, conversion rate optimization (CRO) experts, and UX designers experiment with different versions of their website and see which ones convert better. By integrating Google Optimize with Smartlook, you can watch how users interact with each page variant you're testing. This is crucial for validating the accuracy of your experiments, as we explained in our article on the top 10 A/B testing tools.
Sentry. Sentry is a popular performance monitoring and error tracking tool for development and quality assurance (QA) teams. Smartlook provides a qualitative upgrade to Sentry's data by letting you watch the sessions where certain issues occurred. This makes bug reproduction much easier.
Click here for a complete list of Smartlook's integrations.
Use case #3: Automatically record users' sessions without impacting their experience
Session recordings are a powerful tool for analyzing user behavior. However, they can also be taxing on users' devices, leading to fast battery drainage, high network traffic, and potential app crashes — problems that can lead users to abandon your app.
UXCam and Smartlook both offer options to mitigate these issues. For example, you can adjust each tool's recording quality, reduce the frame rate, and have the recordings uploaded only when the device is connected to WiFi so no mobile data is wasted.
However, Smartlook has an additional feature that minimizes the impact on users' devices by default — our Wireframe Rendering Modes.
As we mentioned earlier, when one of these modes is enabled, Smartlook draws an abstract representation of the content, instead of capturing the UI as users see it.
All user interactions are still clearly visible in these modes, but the UI isn't captured in full detail. This automatically minimizes the impact on users' devices, without you having to manually change the recording quality, frame rates, and other similar settings.
How UXCam's pricing compares to Smartlook's
The final big difference between UXCam and Smartlook is their pricing.
On the one hand, UXCam doesn't have transparent pricing plans or an option to build a custom plan by yourself. You either have to complete a free trial or contact their team to get pricing details.
On the other hand, Smartlook offers transparent pricing and has more flexible and customizable plans.
First, you can choose between two pre-made plans:
Free
Pro plan ($55/month)
Additionally, you can build a custom Startup or Business plan by clicking on the buttons below the price. This lets you choose a higher user session limit and longer data storage, without contacting our team and having to wait for a demo.
Lastly, you can also talk to our team about creating an Enterprise plan that's tailor-made for you.
Analyze the complete customer journey with Smartlook
Smartlook gives you robust analytics that show everything your users are doing — paired with session recordings and heatmaps that show why — all in one place.
Our tool can be used on:
Mobile apps built with popular native mobile app platforms, frameworks, and engines, including iOS, Android, React Native, Flutter, Unity, and more.
Websites and web apps, including ones built with popular CMSs like WordPress, Joomla, and Shopify.
If you don't want to spend time setting up Smartlook, you can see it in action by booking a free demo. Оur team will give you a detailed Smartlook presentation that's tailored to your business at a convenient time for you.
You can also try Smartlook with a full-featured, 30-day trial — no credit card required.